I suppose I started it all by letting Hondo sit on my lap when he was a puppy. I did that with Spencer too. The trouble is that when I "explained" to Spencer that I still loved him but he was too big to sit on my lap, he understood. Not Hondo! He sits on everyone; Spencer, me, our visiting Lab, Buddy, and Will. Last night it was -12 when Will came in from chores. He sat down to warm up before he took off his chore clothes. Hondo was feeling needy and probably his feet were cold. So he popped right up and sat on Will's shoulder. I couldn't resist a picture!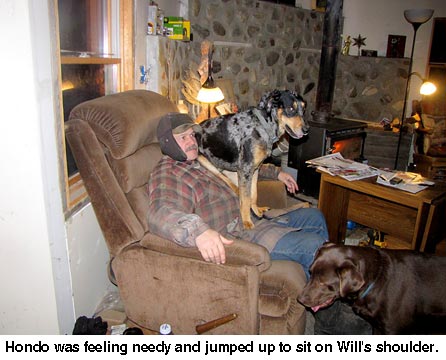 Like all of you, I've been paging through all my seed catalogs like mad. Sure, I've decided on some new open pollinated and heirloom varieties to try this year. But I've also noticed that a whole lot of plants and seeds are now Plant Variety Protection and trademarked! Not just a few as in the past but a whole lot — pages of them! What this means is that you can buy the seeds or plants, but without "permission" (and paying a fee), you can't propagate, distribute, or sell the seeds/plants you have grown. For decades, I've grown and given away billions of seeds. Now we have our little seed business so we can afford to help keep dozens of open pollinated and heirloom varieties alive and well. But now companies and commercial plant breeders are now "protecting" varieties, creating a monopoly on them. We're tickled to have folks grow our varieties. And if they want to share them or even sell the seeds, great! (But then, we aren't trying to get rich on our "own" special varieties!)
I've been pulling seeds out of our squash and pumpkins daily now. Most of the pumpkins are done; they don't last much past the first of the year. Luckily, our squash are better storage candidates. We've eaten a lot of two year old Hopi Pale Grey squash that were still awesome. They're still our very favorite squash. When I open one, we eat part for a meal, then I either can up the rest or make pumpkin pies. We quit growing acorn squash because it is basically bland and doesn't store well at all. This year we grew both Canada Crookneck and Waltham Butternut as well as a new-to-us squash, Geraumon Martinique. This spotted dark green squash is wonderful! We've had raves from friends who we shared with and we've sure eaten our share. Very sweet and a wonderful aroma!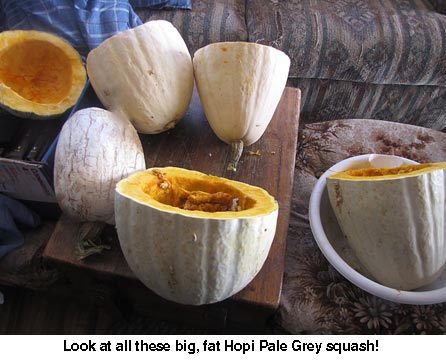 Our goats are also squash addicts. When they see me coming with an armful, they start yelling so much I'm afraid the neighbors two miles away will call the Humane Society on us! They eat everything: the guts, seeds (immature ones), meat, and skin. With their orange mouths, they bleat for more. And it's good for them too.
Our weather's turned real cold. Last night it was -22 with a high yesterday of -6. I'll sure be glad when the next few days have passed and it warms up to the 20s. Above zero! — Jackie