I had a doctor's appointment this morning and he gave me his blessing to put off the surgery until later this spring so I can be sure to attend the Self Reliance Expo in Irving, Texas this May. Hooray! Now I can help Will get all our spring planting done before surgery. And before fall harvest/canning season rolls around. Whew. He said according to the colonoscopy the pockets were numerous in one area but not in danger of rupturing — a big relief. Now I can concentrate on good things! Thank you all for prayers. See, they do work.
Will has started working on our new barn again, putting up ¼-inch plywood (we got it for free) on the gable ends of the barn to ensure absolutely no drafts will be coming through the board and batten siding once it's up. Since we have a lot of insulation board left, we'll be insulating behind the plywood both on the bottom and gable ends of the barn as well. It should be a nice comfy barn when it's done.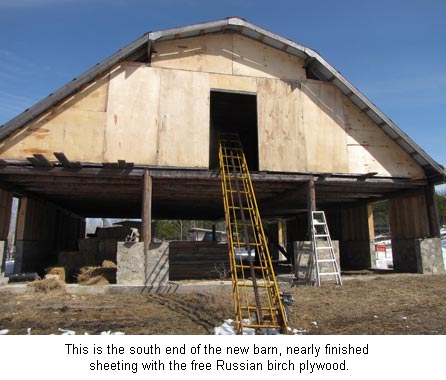 We weaned our calves yesterday so we didn't get much sleep last night with them and their moms mooing all night. But the calves are six months old and need to be weaned — even if they don't like it much.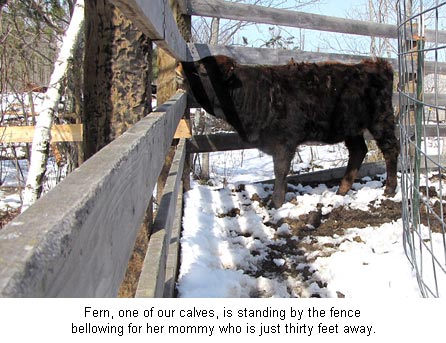 I'm getting ready to plant tomatoes this week. We put them out extra early in Wall 'O Waters and it's time to plant. Happy, happy, happy. We're so excited for all the new varieties we'll be planting this year. I counted more than 23 pole beans so far. Some are from Russia, some from China, and some good Native American beans, just to mention a few. And a dozen varieties of corn, fifteen different squash and pumpkins, thirty new tomatoes. Talk about fun! Thank you to everyone who sent us some of their family heirloom seeds. Be assured we'll plant 'em all and are so thankful to have received them. — Jackie