This is an insane year, weather wise
We still haven't seen three days in a row without rain! We listen to the weather radio several times a day, plus watch the local weather on the news, hoping for the window of dry weather to make hay in. We were supposed to have that window so Will hurried out two days ago and cut a field of hay. Well, yesterday they changed their minds and called for rain this afternoon. Okay, we'd bale this morning after the dew was off. We woke up to not only dew but also a bank of black clouds. Will went over anyway and decided to bale out of the windrow to save time because rain was definitely on the way. You could smell it coming. He got one bale done then it started to sprinkle. He quickly got another when the bottom fell out of those clouds. Yep, it poured. It's kind of finished but they're calling for more rain for the next few days. We'll get 'er done one way or another.
I've got to tell you about a wonderful canning tool I'm using. At the Dallas Self-Reliance Expo, Cecilia Chavez stopped by the BHM booth to show me the beautiful canning funnels she makes out of pottery. A lot of people, me included, don't really like using aluminum or plastic canning funnels but up until now there has been no choice. I brought home one of the amazingly beautiful funnels and have been using it ever since. Mine fits wide mouth jars and is so pretty it doesn't sit in a drawer until I use it. It hangs up with my baskets so everyone can see it. If you'd like to check them out, contact Cecilia at cpcchavez@sbcglobal.net.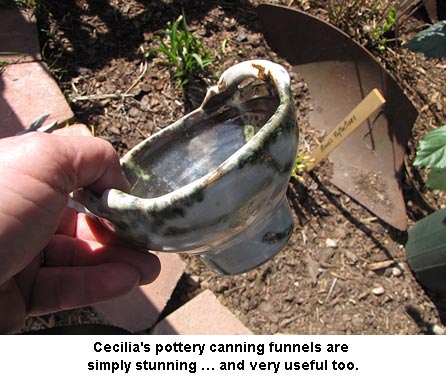 Our gardens are doing fantastic and I have Provider and some other snap beans ready to eat and can up. Our young cherry trees are starting to bear this year. Both Carmine Jewel and Evans Bali cherries are giving us plenty of snacking cherries but not enough yet to can up. Although they're "tart" cherries, we find them pretty darned good to eat.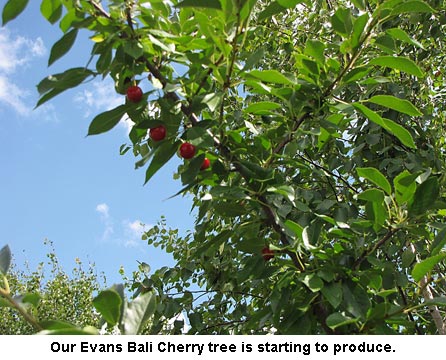 My lilies and daylilies are blooming their heads off and we enjoy walking through the yard each morning to see "who" is blooming today. As you can see, Hondo doesn't share our enthusiasm for flowers! I especially love the Wonder Of It All from Dancing Daylily my favorite daylily site to go toonline. (www.dancingdaylily.com) Becky and her husband have tons and tons of exceptional daylilies at a reasonable price. I'm so excited when a new variety blooms. (And daylilies ARE edible for those of you who spurn "flowers"! If you could bear to eat one…)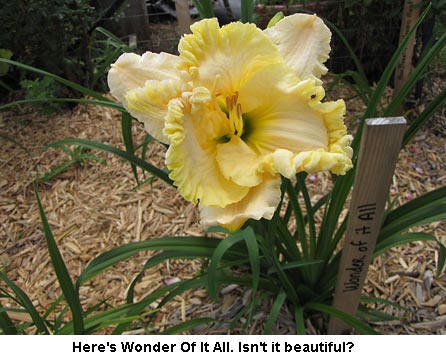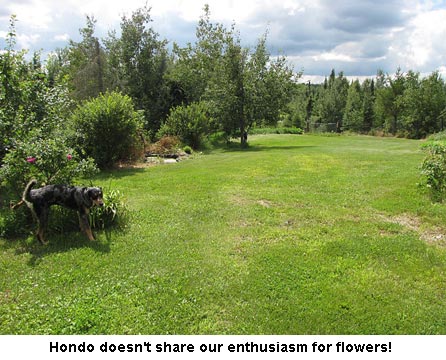 — Jackie