We listened to the weather radio — which we just about live by — and they're expecting rain and snow tomorrow and on through the week. And we still have a bunch to do. I just finished up the rest of our beautiful apples and now have dozens of quarts of apple slices and apple juice. (I put the peels and cores through the Mehu Liisa and turned out beautiful apple juice. Then the goats got the leftovers.)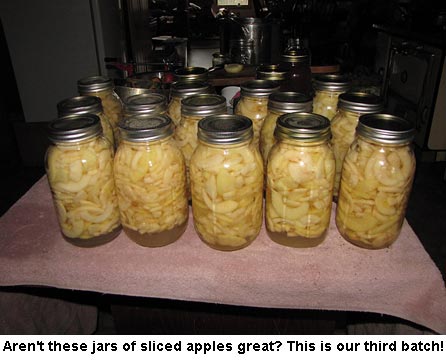 I've still got a crate of carrots to do and some chili but that's on hold right now as Will is sawing up lots of dry popple poles for our small wood. This stuff is great kindling and also works extremely well in our kitchen range. It's pretty darned good when you can keep the house toasty and also be cooking and baking on the same stove at the same time. What a win-win situation!
My oldest son, Bill, got a nice fat five-point buck which is now in our freezer waiting to be cut up and canned. He'll be up next weekend to help do that. We always have a great time visiting while we process venison. David saw a big eight-point buck but it ran straight away from him and he didn't get a decent shot. So he'll try again this week and see if he can also bring home the "bacon." We really love making venison summer sausage with my electric meat grinder which has a sausage stuffing horn. It tastes SO good!
Well, I'm finally done processing all the seeds except some Hopi Pale Grey squash. All I have to do is update our website and I have to get at that pronto as we're already getting seed orders coming in.
Gotta run so I can go help Will. Snow's on the way… — Jackie