I've been canning up a storm trying to gain some freezer space. Since Will brought home about 200 pounds of hamburger from a steer we had butchered, I have extra motivation for canning more meat and meat recipes.
Friday I thawed out a shank portion ham that I got on sale. Over the weekend I first cut ham chunks from it, then dices, and canned these prime pieces. When there was still considerable meat left on the bone, I put it into a large stockpot with water and boiled it for an hour or so. Then I cooled the pot and later skimmed off the excess fat and took out the bone. Then I cut even more pieces from it, adding them to the broth, along with grated carrot and chopped onion, garlic, salt and pepper. Bringing this up to a boil, I added the dry beans I'd soaked overnight. When the pot again came to a boil, I ladled 1/3 of a jar full of beans/veggies and filled it to within an inch of the top with broth. This gave me 10 jars of ham chunks and 27 jars of ham and bean soup. Again the bone went into the stock pot with half a pot of water. I simmered it for a couple of hours, then fished out the spent bone. Adding split peas, grated carrots, chopped onion, and garlic, along with salt and pepper to taste, I again filled jars — only 10 pints, this time.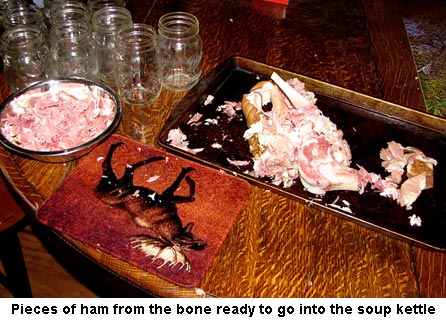 When all was finished, I had 47 meal ingredients/meals from one half a ham. Not bad! Today I've got 10 pounds of hamburger thawed out and a kettle brimming with soaked beans. So this afternoon, it's going to be another batch of chili. We use a lot of this, especially in the winter with a nice batch of cornbread to go with it.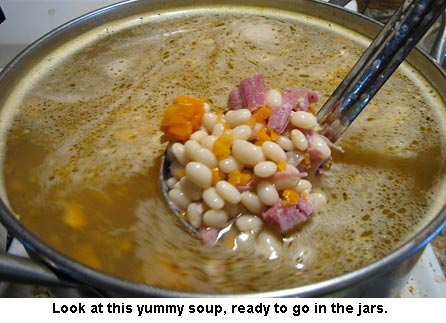 We are excited that we just got our Seed Treasures catalogs from the printer. They look great and I'll start sending them to customers who've requested them. Past customers will receive theirs, mailed bulk mail from the printer. Wow, suddenly spring seems a lot closer! — Jackie