Tuesday, May 5th, 2015 by Jackie Clay | 6 Comments »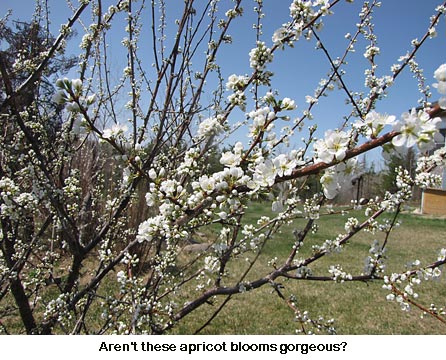 Wow, Spring hits here with a bang. On Saturday, our carpenter friend, Tom, stopped by to ask if we were ready for our porch roof on Monday. Last year we asked him if he would put the shingles on the new porch. He had roofed the rest of the house and we didn't want to mess up anything so it wouldn't look "all together." Then, suddenly, we were in OMG mode. The building center where we got our shingles doesn't carry that brand anymore. Tom thought Lowes did, so I called. Sure enough, they did. So Will and I set out at 7 p.m. to go get shingles. Unfortunately, when I called I didn't ask what color they had. Well, it was brown, brown, and more brown — our shingles are green. We'd already traveled 35 miles, and it was getting late, so I called Home Depot in Grand Rapids, another 35 miles away. Yep, they did have the brand and the color. (Very helpful, friendly folks there.) We drove like crazy and got there 20 minutes before closing. We found that not only had the Home Depot employee, Eric, personally gone to check on the availability of the shingles but he had also loaded them on a flat cart and set out the ice and water shield by the contractor checkout desk. And he helped load them into our car. Thank you, Eric. There still are friendly, nice folks out there.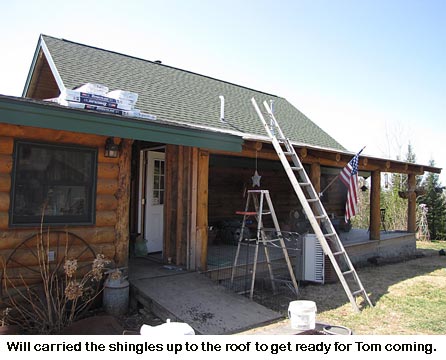 Oh, and if you didn't know it, both Lowes and Home Depot give a 10% discount to veterans. You just have to have a photo identification card. That really helps us out on large purchases. A big thumbs up to both companies!
Our wild plum trees are blooming this morning and the Manchurian apricots are right with them. It's sure pretty with all those blooms after a drab winter. I love spring! — Jackie