Thursday, October 9th, 2014 by Jackie Clay | 6 Comments »
We had ice on the animals' watering tanks this morning. Brrrrr.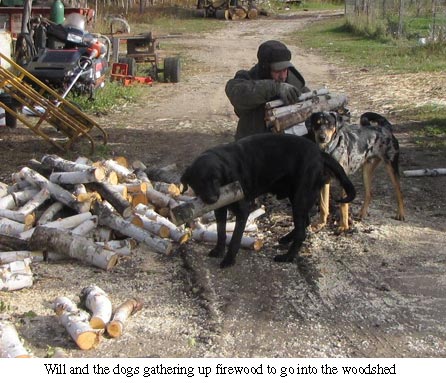 Will's been trimming dead trees that hang over the driveway and will cause trouble this winter when we plow snow. Luckily, a lot of it is birch which makes great firewood. Yesterday he cut up a trailer load and this morning while it was still very crisp out, he began stacking it in our wood shed. The dogs must have been cold too because they started picking up wood and following him in the shed! Unasked. But after awhile, Spencer started picking up wood and heading for the house. I opened the door and he dropped it in the woodbox and headed back outside. He repeated this four times, until Will had stopped carrying wood (or Spencer got tired). Who says animals are dumb? They know wood makes fire and fire makes doggies toasty warm when they lie in front of it!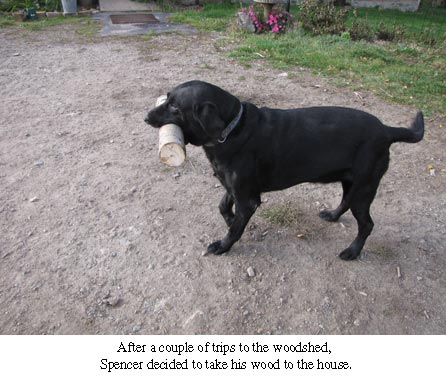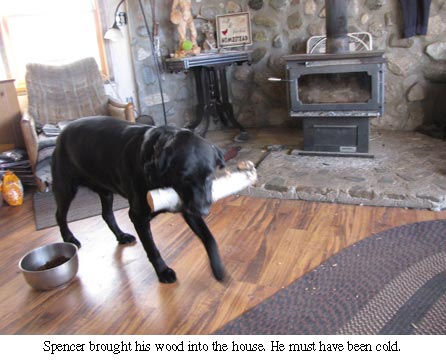 I'm jumping through hoops, trying to get things arranged to get my adopted son, Javid, back to Minnesota from Montana. Because he's physically handicapped, he is on SSI and MA in Montana. And to come here, they can't simply transfer his MA. He has to reapply here in Minnesota. After he's been in the state 24 hrs. Then it takes up to a month (or so) to be approved. Then he has to apply for a CADI waiver so the state will help with his housing/care expenses. That takes another (long) period to wait. And he can't go into an assisted living apartment until he is approved for both. The only out is to transfer him from the nursing home he's currently in, recovering from surgery on a pressure sore, to another nursing home in Minnesota. But I had one heck of a time even arranging that! Seems that some nursing homes require $5,000 up front for the first month's rent in case the person is not approved for state help. $5,000 a month!
However, I think I've found a small facility fairly close (25 miles) that hopefully will take him, temporarily, until the paperwork is done. And they have an opening. (Seems like most nursing homes in our area are full!) Whew! All this makes me tired!
We're trying to get this done so we can get Javid moved here before we have to travel across North Dakota in a blizzard.
Meanwhile, while I'm waiting for phone calls, I'm continuing seeding tomatoes, pumpkins, and squash. (If you've ordered seeds recently, which include Hopi Pale Grey squash, I know your order is late but I want to be sure your seeds are dry as they are very "fresh"! I don't want them to mold.) — Jackie