We've been working on our new addition every single day, and yes, some days it seems like we worked SO hard and nothing changed much. But now, suddenly it's all coming together. I've painted the entryway now, with three coats, and Will has moved on to putting the knotty pine up on the living room ceiling. As it's an octagon, there's plenty of measuring and cutting involved there. But with the scaffold that Tom left here for us to use, it's a lot easier than teetering on a ladder.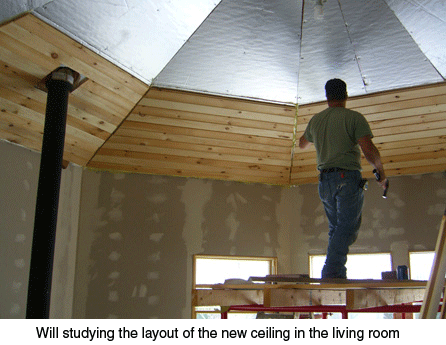 I also canned up 19 pounds of "of sale" cheap hamburger. I got it for $1.39 a pound and canned it up just plain, lightly browned. That way I can use it for a huge variety of recipes. Besides, I didn't want to take the time to season it this way and that. I sandwiched it in between sanding mud and painting. Yes. I was hugely tired!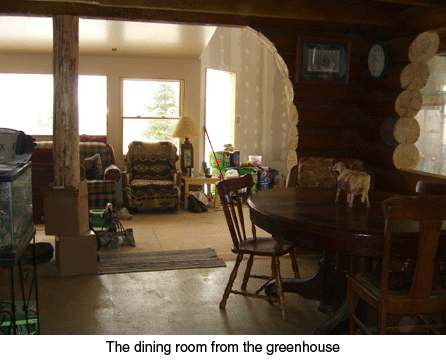 Yesterday, I mopped the newly painted entryway, then moved the sofa and chair out there so I could finally have a dining room. WOW! It's all so huge, after being cramped in for so long. As the living room isn't done, the sofa and chair are just temporary, but it got me a nice place to feed everyone and that's so nice.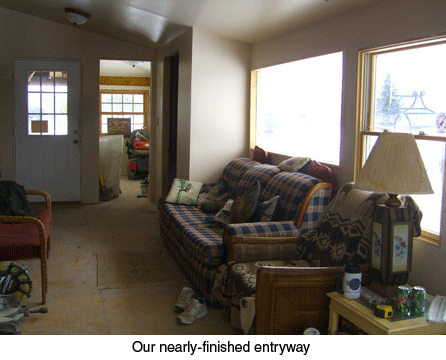 Oh, and I planted 17 different varieties of peppers and a flat of celery yesterday, too. Peppers take so long to "get going" so I need to start them very early, so I can set them out in Wallo' Waters this early spring. I want lots of sweet ripe peppers this year! Mmmm, I can taste them now…
Readers' Questions:
Using an old crock pot as a bean pot
Jackie, could the inserts from old crock pots be used as bean pots in the oven? I realize that plastic covers would not be suitable, but a cover could be made from foil..and Richard Blunt's article about rice and beans prompted my question. I wound up putting my beans in a crockpot which lengthened the cooking time considerably, but could I have used the crockpot liner in the oven? Thanks.
Kathleen Dismore
Marion, Illinois
Probably. I can't say for certain, as they could possibly be affected by higher oven temperatures. I don't have a bean pot, but use my Dutch oven or a deep glass casserole with a cover, for my beans. All I can say is give it a try, but I'd put a cookie sheet under it, just in case it should crack. You wouldn't want beans dumped out all over your oven! — Jackie