We just had six inches of rain!
As if June wasn't busy and we weren't late enough with our projects (garden and barn), we just got dumped on all day by a torrential rain. All in all, it poured six to seven INCHES of rain on us! Will has been going mano a mano with the beavers, trying by hand to tear out just enough of their dam to reduce the water level in the creek in order to put his bridge in. The bridge frame is laying over the water next to the pilings but there has been too much water to finish putting backfill into the creek behind the pilings. So he has been going down to the dam every day — usually twice — with a hoe, pulling out branches, logs, and mud to let more water flow through. But beavers are very tenacious builders. They are working just as hard to patch up Will's hole. They even cruise around while he works, slapping their tails at him. Spencer tries to chase them away but he can't out-swim a beaver and they just laugh at him. We'll see how this all plays out. So far the score is: Will-0, beavers 12!
And the rain washed gullies down the corn patch in the garden. The first corn is up nicely, but we'll have to see how the second patch comes. One gully is right down a row! And it's about 4 inches deep. I think I'll have to replant that part of the row, for sure. And it's getting late to plant early corn, up north.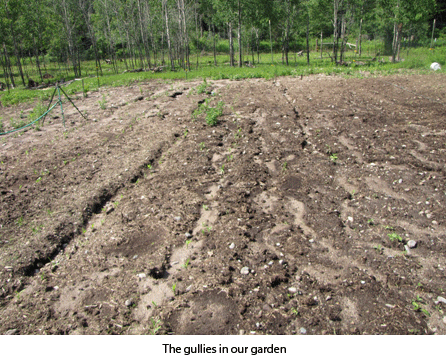 But the potatoes and onions love the rain; we've got the makings of a great crop! Because of graduation and the wedding (and the preparation), I'm late doing everything in the garden. Just now, I'm pulling the Wallo' Waters off my tomatoes. It should have been done two weeks ago, but oh well… The tomatoes look great though. Unfortunately, so do the weeds! Wow. The garden won't be pristine this year! But we'll sure have plenty of food from it. (After all, lamb's quarter and pig weed make great cooked greens!)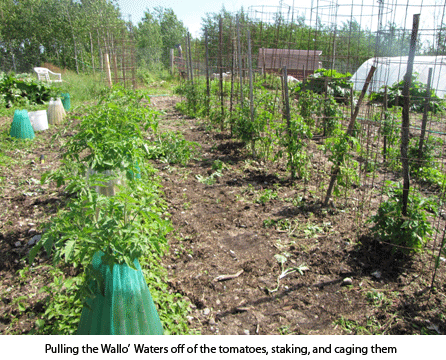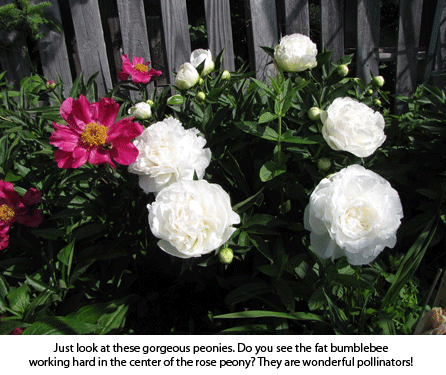 After being planted for three years, my perennial flowers are just taking off. The peonies are wonderful! And my lupines and roses look great, too. For a couple of years, they looked pretty puny, trying to fight off weeds that I never had time to pull, it seemed. But I kept at it and this year the flowers are rewarding me. They are absolutely gorgeous and getting better! It goes to show you, our motto of "never quit" holds true in all things in life. Especially here in the backwoods! — Jackie