Even though it's going to be twenty below tonight, I'm starting peppers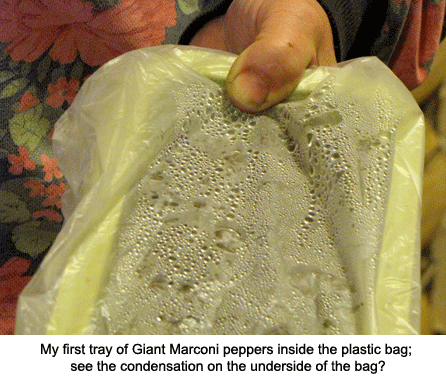 February weather in northern Minnesota can be huge swings between thawing and sunny, to blustery and sub zero. Tonight and tomorrow night, they're calling for the latter, dipping down to twenty below. Brrrrrrr. But I'm still starting to plant peppers, a few containers at a time, so I can set out nice stocky plants in our hoop house in May. I'm growing some of our old standbys such as Giant Marconi — which I couldn't buy seed for this year — and trying some new ones too. As always. I start my seeds in peat pellets in deep recycled plastic containers. I water them well and stick the whole works in a plastic bag to hold in the moisture, then they go up on the bookshelf next to our living room stove so they're cozy and plenty warm (75-80 degrees). They germinate very quickly and come up extremely strong.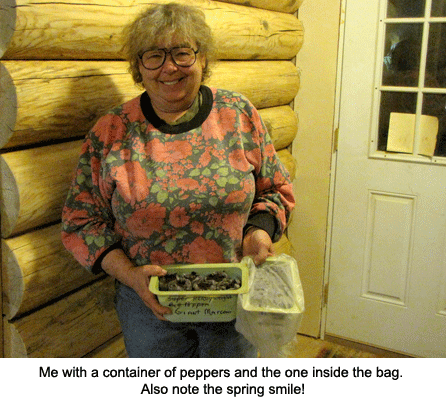 We have our teen-kitten, Mittens "the Monster," so I'm going to have to protect the plants by putting them in our huge parrot cage. Unfortunately, our parrot was very old and passed on from a heart attack. If Mittens can get into that to destroy plants, I'll be very surprised!
Getting my fingers into warm soil and smelling the moist earth makes me itch to get gardening….even if it is snowy and icy outdoors. And it makes winter pass so much faster too! — Jackie