With the help of our trusty Lab, Spencer, and cat, Mittens, we're working through our badly neglected berry patch. Yesterday, Will began pulling the photo-degraded plastic tarps off the spaces between the rows, then we used the weed burner to get rid of all those small, unsightly pieces left over, as well as some baby thistles and debris along the fence line. Then Will set out to start pruning the brambles. What a job. Removing all of the dead canes, pulling out wild raspberry bushes and wild roses, pruning the rows, and cutting out the excess canes all ended up in plenty of stickers in his fingers. Today he used gloves! I hate using them, too. But you just can't get raspberry pickers out of your fingers! I've got to haul off all those dead canes to burn, then I'll start in on cleaning up the fence rows along the berry patch from where all those wild berries come from, sneaking in through underground runners. Our strawberries are hopeless; we let them get too full of grass the year we fell off the barn roof. So we'll let 'em fruit this year, then we'll dig the plants, carefully pull their roots free of grass and weeds, and totally re-do that patch.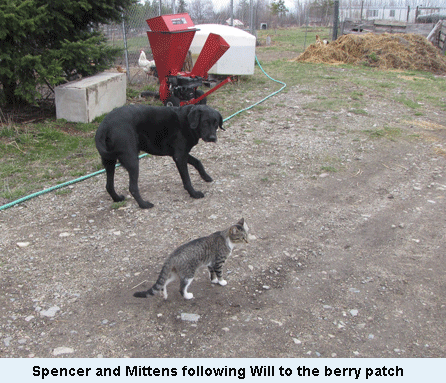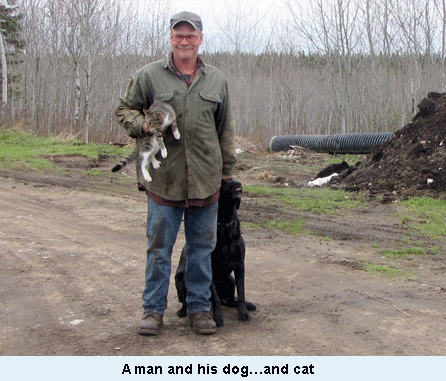 You know Mittens, the cat that thinks he's a dog? Well, we got him after the woman said he was a boy. So we always called him "he." But then he came into heat! Boy, did we feel stupid when we checked. Yep, our boy is a girl! Spencer doesn't care — they're still best friends, following us everywhere on the homestead. Mittens has developed into quite a hunter after we gradually let her go outside a little at a time, under supervision. First it was a vole, then the day before yesterday, she brought three garter snakes up onto the porch. I was able to rescue two of them, but she'd killed the third and we felt bad about that. I wish she'd confine her hunting to rodents!
We have an appointment next week to have Mittens spayed. Even though we have no stray cats here, you just never know. And we don't want to add to the overpopulation of cats, even by accident.