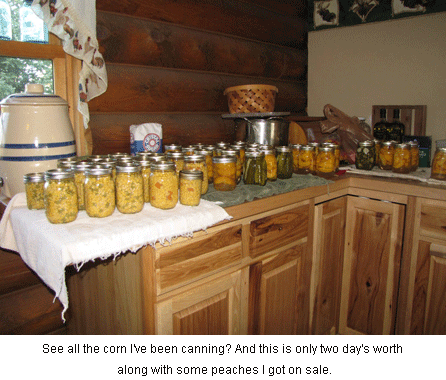 The vegetables in the garden were a little slow ripening this year because of the weather, but they all came on like gangbusters. Right in the middle of all this canning, I missed the bottom step on the basement stairs and fell. My right elbow smashed a gallon jar full of dry macaroni shells and I cut the tar out of my elbow. Seventeen stitches later, I kept on canning corn and trying to bale hay. The corn went fine … baling hay hurt like hell. But the hay's all finished (and without rain, may I add). Of course, we're in severe drought now, so it made haying easier. Luckily, the hay was good this year because of earlier rains.
And Will was slowed down for two weeks. Seems like he had a bladder infection. At first we figured it was the flu. After starting on antibiotics, he's much better. But he was one sick puppy for a while. And it made him mad because he wanted to keep working on the barn. But now he's better and yesterday he started nailing down rafters again. And today, he's more than half finished. You can't keep a good homesteader down — for long anyway!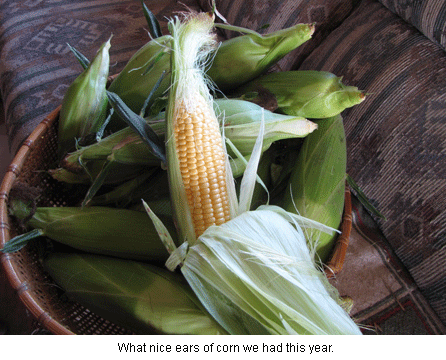 I've managed to can up tons and tons of sweet corn, corn with carrots, corn with peppers, and corn with peas. The corn's starting to get overripe, so I'm letting that go on to dry to make cornmeal with. I've never had better corn with huge cobs. It liked the heat this year! Now I'm on to tomatoes. Yesterday I canned salsa and made tomato puree, which is in the oven cooking down. So today I'll be canning tomato sauce. Boy, the kitchen sure smells great at canning time.