After Will's illness (which turned out to be a bladder infection) and my cut elbow, both of us are back to normal. I get my stitches out tomorrow and I'll be glad of that. Happily, my arm is healed up nicely and hurts a lot less.
I've been canning up a storm. Yesterday, I did more salsa and pizza sauce. Today, I'm going to try to find some more good corn to make corn salsa (most of it has gone mature and is too tough to use) and pick another bucket of tomatoes for spaghetti sauce. Our peppers are finally starting to kick out the peppers so we have plenty to use in all of those sauces and pickles. Our cuke vines are still producing and I think I can find enough to do another batch of bread and butters — maybe some dills, too.
Will has been working every day on the barn. It will be ready for the sheet metal roof as soon as we get some cash to buy it. Until then, I'm sure Will can find something else to do on the barn to get it ready to use. Although the weather's been warm, we know wintry blasts are just around the corner.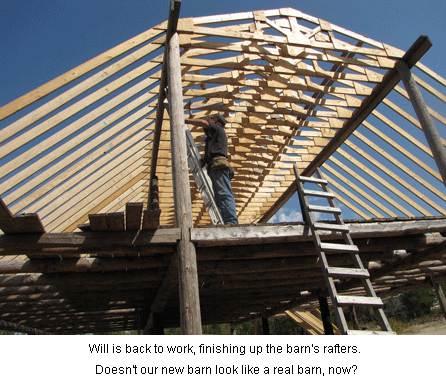 And we do like to prepare! Just like nature's plants do by shedding their leaves when stressed and by making thousands of seeds to ensure survival (which is what our native trees are doing) we like to make sure that both our family and our animals are provided for. In fact, I like the term "providers" much more than "preppers." We don't prepare for horrible events and emergencies. We just happily keep on with our chosen lifestyle of self-reliance, providing for ourselves and any emergency is thus provided for, as well.