Okay, we've been through a couple of frost warnings, but tonight the weather radio is calling for a freeze warning — 30 degrees! EEeeeek! So all day we've been picking tomatoes. Buckets and baskets of tomatoes. Of course I've already canned up a lot of sauces, but now we have something like fifteen bushels of tomatoes, from huge red ones to medium-sized green tomatoes, stacked up in totes, bushel baskets, and buckets on our unheated back porch. It's unheated but still stays twenty degrees warmer than outdoors. And there are still thousands of tomatoes out there — mostly green ones.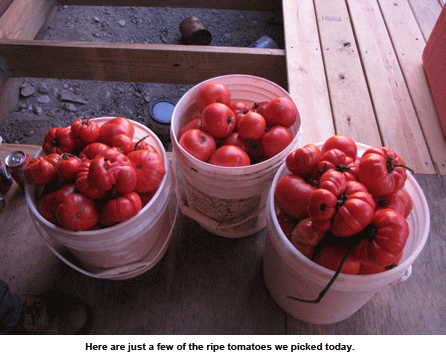 I called my friend Jeri, whose tomatoes had been killed by a hail storm. She and her husband, Jim, were over last week to pick two 5-gallon buckets of ripe tomatoes. I knew she could use more. So she hurried over this afternoon and picked two more buckets full.
We were totally amazed at the tomato crop this year. The tomatoes were late, but they were huge and abundant. We had wonderfully giant Cherokee Purple, Old German, Tree Tomatoes, and a new heritage Italian tomato given to us by a friend. He got them from an old Italian immigrant who smuggled them into the United States in his socks! And, boy, are they good, too. Did I mention that these tomatoes were well over a pound — most two pounds and better. We had a couple that actually looked like pumpkins!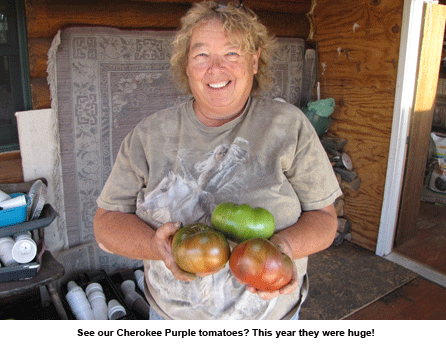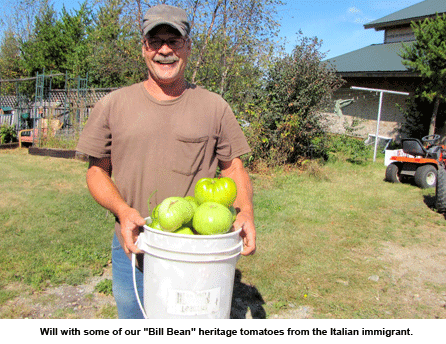 I'm going out to cover our remaining frost sensitive crops and am hoping against hope that it really doesn't freeze tonight. Wish us luck!