Although our pigs have been getting garden waste since mid-summer, it consisted mainly of hail-damaged tomatoes, rodent-chewed melons and squash, weeds, and other such goodies. But now that we've had a freeze and have harvested all of our freeze-sensitive crops, the pigs are in hog heaven. Their troughs are filled with small melons and squash, frosted smaller tomatoes, damaged tomatoes, tomato skins and seeds, and pepper seeds and stem ends. The pigs have so many goodies that they can't eat it all. They sigh then go lay in their houses to sleep it off.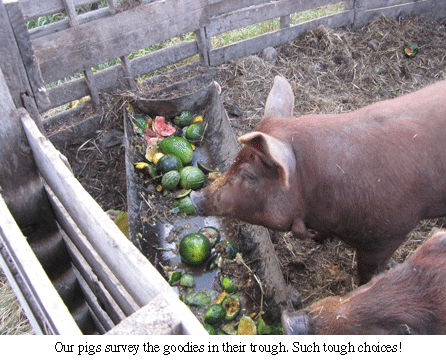 We had a strange harvest off of our huge compost pile. Early in the summer a squash or pumpkin started growing on it and soon took over the pile. We harvested the squash and I haven't seen one like it. It was hugely abundant, white with green stripes and kind of pumpkin-flatish. Anyone know what it is? We haven't eaten one yet; most winter squash get sweeter with at least a month's worth of storage. I'll keep you posted.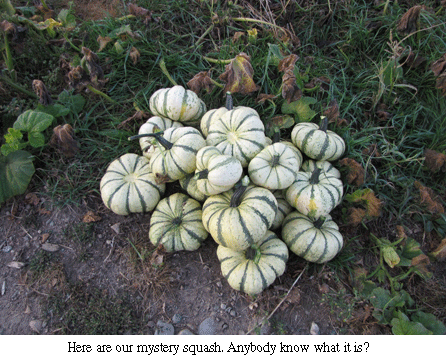 We finally had a good rain, but today it's cold, windy, and damp out. Brrrr. Feels like winter's just around the corner. Will's down on the barn, pounding nails like mad. We're almost ready for the roof now, but we have to put it on hold until some cash comes in. There's always another project waiting in the wings, however! That's how it is on a homestead.