If you, like us, are looking out on a world of white and cold, it's a good thing to remember that there IS a light at the end of the tunnel. We've already passed the shortest day of the year and it's only a "few weeks" until the snow melts. We're all getting new seed and nursery catalogs in the mail, aren't we? At least it gives us more time to plan for spring. Will and I have already found several things we want to add to our homestead next year!
I scrolled down my photos from this last year and was surprised at how green everything was! So maybe seeing all that green will encourage those of you who are sick of snow and cold. I think God gives us winter so we can rest up for spring and summer!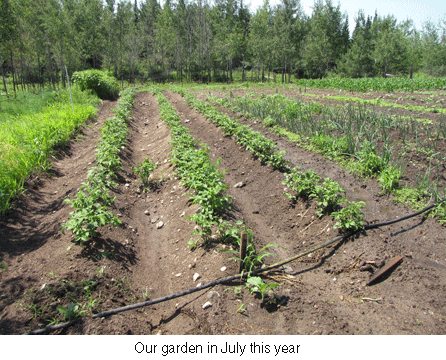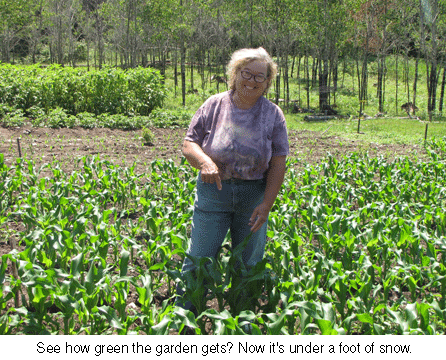 We had a great Christmas here. My sister and her son came up and we feasted on a pork loin roast basted with sweet Italian dressing, potatoes, and green beans from our garden, tons of pickles from the pantry, homemade pies and cheesecake along with plenty of snacking foods. My oldest son, Bill, and his family will be up this coming weekend for a late Christmas so we get to do it all over again. How fun. Even more so because our grandchildren, Mason and Ava, will be here for us to spoil. (We're giving them Giant Pumpkin seeds for Christmas, among other things, so they can grow their own Giant for Halloween next year.) Oh, Will bought me an electric meat grinder for Christmas after seeing how much I loved Jeri's! What a wonderful gift. Sigh. Who needs jewelry?
This morning, Will caught sight of something out on the beaver pond in front of the house. He grabbed the handy binoculars and called me to the window. It was a pair of wolves! They were hunting mice around the pond and playing with each other. The female went out into the middle of the ice and sat down, then ran back to play with the male. Then she went back onto the ice again. We think she was flirting with him. Breeding season's rolling around in a couple of months. We got to watch them for about fifteen minutes before they meandered off into the woods up the creek. Awesome! — Jackie