Although we work outdoors much of the winter, when a severe cold snap hits, we find plenty to do indoors. And this week we'll be  doing a lot of indoor work! For five days, the HIGH is going to be between -12 and -9 degrees F. And the lows at least -20 to -35 and that's NOT with the wind chill. That's the plain old temperature. Brrr… throw another log on the fire!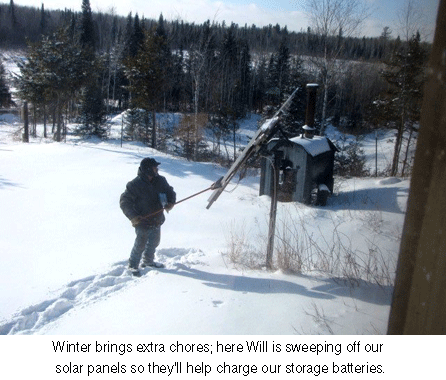 Of course, we still have to do chores and those chores include hauling extra bedding for all the animals and chickens, so our normal chores take longer to do. And because it's so cold, nothing wants to start. No ATV to haul hay and grain buckets. The vehicles are stubborn and the generator is really stiff pulling. I sleep on the sofa so I can toss wood into the living room stove and kitchen stove every hour all night until about 4:00 when I finally go to bed. Of course I don't get up at the crack of dawn after that, either!
Will shelled our tubs of sweet corn that was left over on the stalk after I had canned all I could before it went tough. We picked it all and brought it into the enclosed porch to finish drying after the blue jays started eating lots of it when it was still on the stalk. All totaled, he got 33 pounds of perfect, dry corn. That's not counting small seeds or those that were shriveled. Those went to the chickens.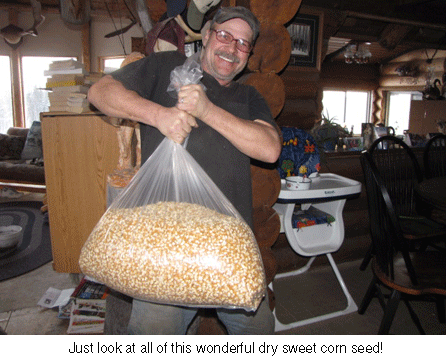 We will be using some of it for cornmeal and maybe even trying to plant some to see what happens. It IS a hybrid; Seneca Horizon, so it won't breed true. But who knows? I bred hybrid tomatoes back to open pollinated and now save seeds from these wonderful used-to-be Early Cascade and are now Early Firefall. Early Cascade was "discontinued" when Monsanto bought out Seminis Seed Company years back.
Well, I've got to go do chores! Not looking forward to that but the critters sure are. — Jackie