We got a recent reminder of what it's like at -35 a couple days ago. When it's that cold, we need to stuff wood in the fire every hour or two; I sleep on the sofa and do that. The vehicles don't want to start. We wait until it "warms up" to -15 before trying that. Then usually one will fire up and we go around jumping batteries as needed to get the rest started. If we don't need them, we don't start them. Unfortunately, we did need the truck with the snowplow on it because we had 6 inches of new snow.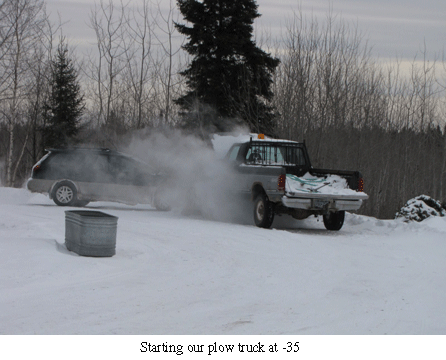 I water the goats, pigs, and small calves with warm water from the house. So we haul from the bathtub to the different pens most of the (frigid) morning and afternoon. All the animals need lots of extra bedding to stay warm. Even then, two of our new goats (who were sickly) were too cold and we needed to bring them into the house the night the temperature dived or I'm sure they would have died. We got them a week ago from a friend of a friend who had moved here from southern California to homestead. She'd had enough of frigid Minnesota and was moving back to California and wanted someone to take her three goats.
We took the goats and felt sorry for the almost-homesteader. But the goats were still wearing their summer coats and even with sweatshirts, they were cold. They had diarrhea and snotty noses, and just didn't feel well. So we hauled them into our house and put them in the greenhouse addition. I built a small pen in the corner and every time I went into the kitchen, I tempted them with goodies ranging from salt, brown sugar, and apple slices to some of our dried sweet corn seed and squash guts. I'd already wormed them, given oral sulfas and IM antibiotics.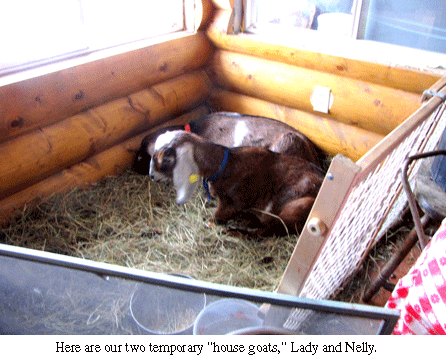 After two full days, they began to eat and baa at me. This morning I woke up to goat feet pitter-patting through the house. They'd jumped out of their pen!
Because it's 32 above today, David and I built a hay-bale goat house inside the goat barn and bedded that heavily with straw. We'll keep a close watch on them and if they get too cold, back inside they'll come. But I have to tell you that goats really don't make good housepets! I'm hoping they'll adjust just fine. — Jackie