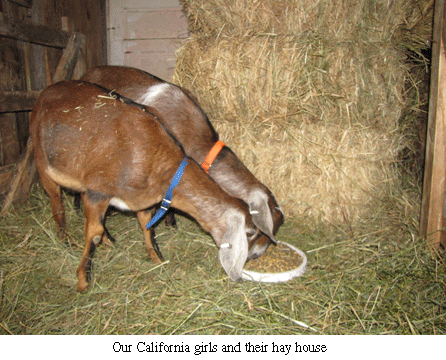 After jumping out of their indoor greenhouse pen three times in half an hour, we decided to try putting them back in the goat barn. The temperature was warmer (30 above) and it was sunny. Instead of putting them in their old pen, David and I built a hay house inside the center pen so they could be by themselves for more pampering. After bedding it well we brought them out and they seemed happy to be outside. They went right in their hay house and now they cuddle together when they aren't eating or exploring. Hopefully they'll continue to do well. I will put coats on them tomorrow night. It's supposed to be -27. Brrrr.
We had another 8 inches of snow yesterday and Will plowed the mile-long driveway and cleaned out our house yard. It's much better than fighting the snow.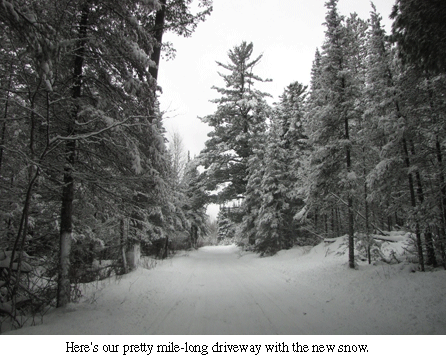 Because of the cold, we've been working inside, doing finish work on the house. The shake roof is nearly done with only the new pine fascia trim to go. I think it looks real nice. We're even thinking of splitting shakes for our new chicken coop-to-be. Now Will's putting up trim around the windows indoors. He started in my office and has plans to move around and do the bathroom and kitchen windows too. Boy, does that look great. He has one office window finished and is working on the second one now.
Around the homestead there's always something to do. We never get bored! — Jackie