Well, the beavers must have known something because it's snowing again, right after another seven inches of new snow! Will plowed the driveway yesterday and it looks like it'll be a repeat tomorrow. (Was that a beaver snicker I heard while I was out doing chores this morning?) Will and our friend Eric are going to pick up the new-to-us tractor we bought Monday. (Well the Credit Union bought it and now we make payments. But we did manage to pay off our last money owed on our Hud-Son bandsaw mill.) We had a square baler but we use a lot of big round bales to feed the horses and cattle through the winter. We bought a big round baler last winter but our Ford 660 doesn't have enough horsepower to use it. We had been hiring baling done by our neighbor but after all, he's well into his late eighties and is still haying around 2,000 acres and can't always help us out when our hayfields are ready. So we thought we'd better become more hay-self-reliant.
While the guys are picking up the tractor, I'm saving seed and canning our big Hopi Pale Grey squash. Many of you have requested seed and sent SASE padded envelopes for the seed I'll give you. But the dry seed went and now I need to dry some more to fill your orders. It'll be a few days but you'll soon get your seed.
There is some confusion over just what a Hopi Pale Grey squash looks and tastes like as the Baker Creek squash labeled Hopi Pale Grey doesn't seem to be the same as the Hopi Pale Grey I've grown for decades. There ARE several different Hopi squash: green, black, and the pale gray. We love the pale grey the best.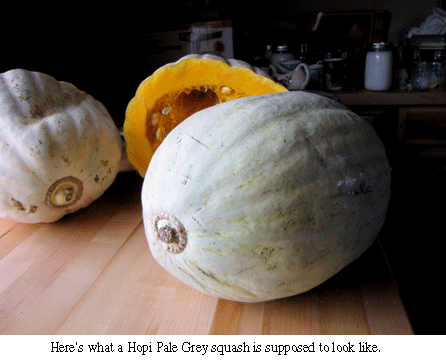 The Hopi Pale Grey is a medium-sized light powder-blue/gray squash, often oval shaped. It always has a "belly button" on the blossom end. The meat is light to medium orange. The seeds are fat and bountiful. The squash is sweet and has few strings. I even grate it on salads and use the dehydrated slices, ground, in my mixed grain breads. It stores so well that we've had several stay fine after storing more than two years on our bedroom floor!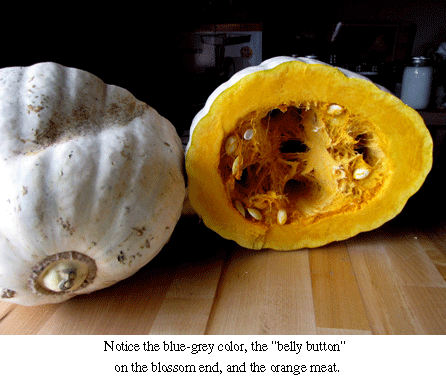 I'll give free seeds to anyone who wishes to grow them and maintain pure seed by not growing any other C. maxima pumpkins or squash as they will cross. We want to save this wonderful squash from extinction. — Jackie