To offset some of our homestead feed expenses, we began raising extra steers and pigs each year, selling quarters and halves of meat (nicely cut, wrapped, and frozen) to buyers from not only around here, but many miles away as well. Thanks to my daughter-in-law Kelly's oral advertisement for our meat at her work, we have landed orders for a whole processed pig and two steers. We delivered our first pork yesterday and everyone was happy. The buyers didn't want the ground fat to render for lard, so they gave it to us. Now we have another bag of fat to render. I do it in the oven so it is very quick and easy, making totally wonderful sealed jars of pure white lard to line our pantry shelves. The processor has a local company smoke the bacon and hams and they do a scrumptious job of it, too. We are enjoying some of our own pig's bacon and it's sure hard to stop eating it.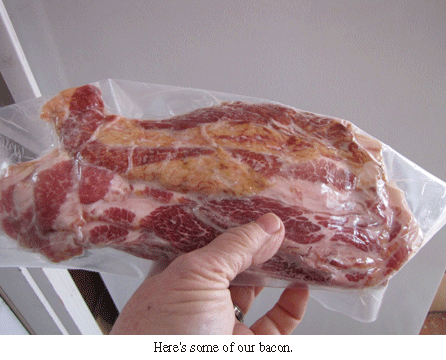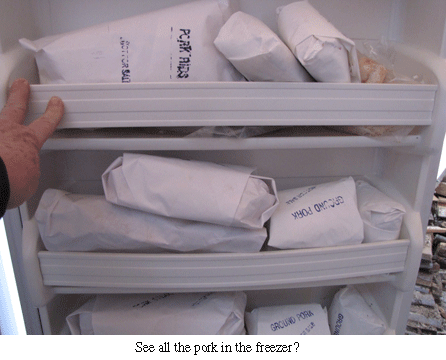 Since livestock feed is so expensive, we've found that raising animals to sell as processed meat is a better way to recoup our costs than simply selling live animals at the auction barn. It more than doubles our profit. And as feed is twice as high, it lets us at least break even and have our own meat nearly for free. But I sure wouldn't want to raise more than this as the ongoing feed costs nearly eat us alive. A few is great though.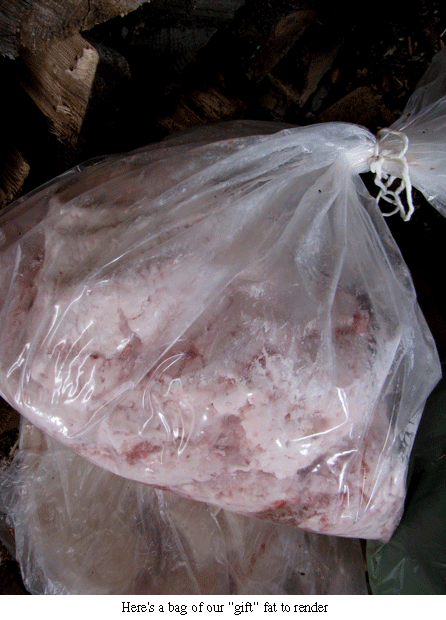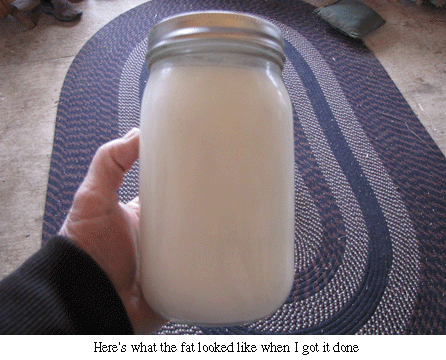 The temperatures are moderating and we've actually had thawing here for the last two days. That's sure a blessing as it's been one cold winter and the snow's stacking up pretty high. I'm glad spring is just around the corner. I saw a big flock of evening grossbeaks in the trees yesterday — the first we've had for months. Wow, was that nice! I've got to get the sunflower seeds out for them.
Oh, just a reminder to those of you who are tossing around the idea of coming to our August seminar, folks are getting signed up and so far there are still spaces left. If you are wanting to come, it'd be best to get your deposit in so we can save your space. There's only space for 15 people so we can give everyone personal attention. — Jackie