With temperatures in the high sixties and not freezing at night, our three feet of snow has been melting fast. And yesterday for the first time this spring, I walked in our orchard. How nice that was! All of our trees look great with no winter kill that I can see. But there were vole tunnels made of dead grass that used to be underneath the snow. We never saw a vole all winter, but they were down there anyway. Luckily, we had wrapped screen around all of our fruit trees so they didn't eat the bark on one of them. Whew!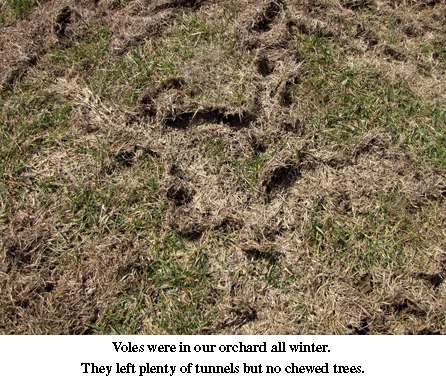 Now that the sun is out, we are nuts to get started with all we have to do. Early this morning, Will set in another layer of rock on the wall behind the wood stove. It's nearly up as high as it'll go and we're getting excited. I think it looks great. Once it's done all the way up, he just has to go back and fill in the spaces between the rocks with mortar and finish it off.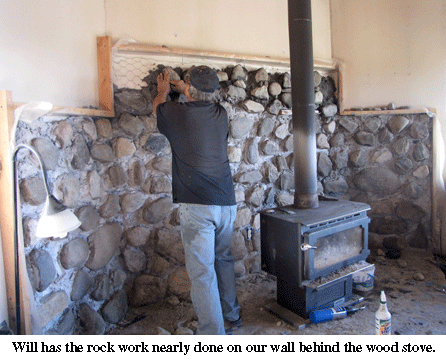 Then this afternoon, our friend Erik came over and he and Will started laying up more sheets of metal on the barn roof. We had seven long sheets, left over from fall when the snow had halted their work. So up they went! They did have to trim two inches off the sheets so Will now knows the exact measurement for the next order. When we get the cash…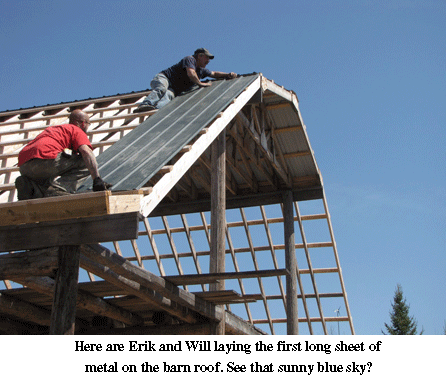 But the barn's looking good! And because the snow's melting and the ground's drying, pretty soon we'll be able to start cutting boards with our little Hud-Son portable bandsaw mill. We still have some to cut for the hay loft floor, then more for the side walls. We'll have enough boards for the front porch roof too. The only cost now will be more decking for the floor, and then the shingles and water shield for the roof. And we do have two bundles of shingles left over from the addition. I'm getting pretty excited to have it getting that far toward DONE.
Ahhh, isn't spring great? (Oh, I do have to have surgery on my knee, but it is supposed to be minor and heal quickly to a pain-free normal knee. I can't wait to get that over with and get on with gardening.) — Jackie