We've been having a real rainy mid-May with flash flood warnings on the weather radio nearly every day. Luckily when we picked out our homestead land it was on high ground with absolutely no flood danger. And our gravelly garden drains so well that even after an inch of rain, we can let it dry out a day and till it. If the tiller's not broken!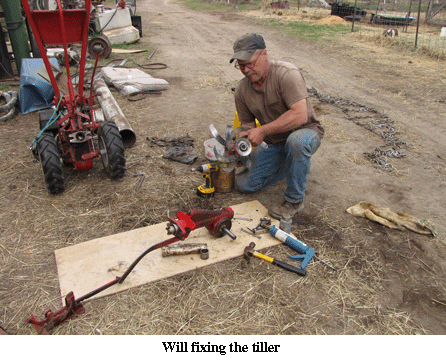 Luckily, Will got the parts he needed for our Troy-Bilt Horse Tiller and spent a dry day putting it back together. Then in the evening he took it out and gave her a try. It worked perfectly!! Then it rained. And rained again. Still raining!
With my knee healing but not so hot yet, I went down to Duluth to my sister's house to pick up some of the Soil and Water Conservation trees she had ordered to split with us and my son, Bill. We got Hansen Bush Cherries, Wild Plums, Highbush Cranberries, and a few Mountain Ash for the birds. On the way down and back, I stopped at Byrn's Greenhouse in Zim (way out in the boonies!) and bought some plants too! It's a wonderful place with beautiful plants and great prices. (Okay, I filled the back of the Subaru!) I got two honeyberries for Will. My daughter sent me $20 for Mother's Day to buy plants with so I bought a hardy pink rose. Then I bought a few perennials and some pansies for the flower bed. I could have brought the whole place home if I'd have won Powerball! When it quits raining, we'll get 'em all planted.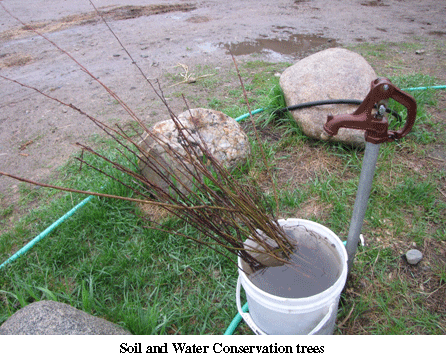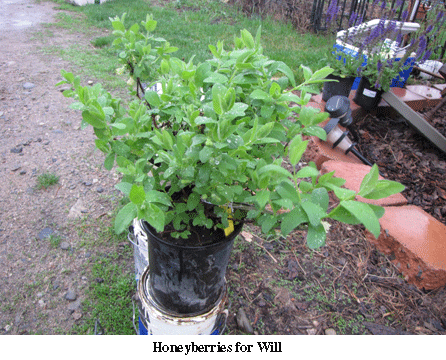 Our beautiful milk cow, Lace, just calved today. Unfortunately it was another big bull calf — white with just a little red roan on the edges of his ears. We so wanted it to be a heifer. Oh well, at least he is healthy.
We had a couple cancel for our Homesteading Seminar in August because of health problems, so there are two more spots available if any of you would like to attend. Just e-mail me at jackie@backwoodshome.com and I'll send you a flyer. — Jackie