Most of our wild and tame fruits have flowered without a freeze this year and as I closely examined several trees/bushes, I can see little swollen bumps that show that they are forming fruit. Even our honeyberries are sporting berries; our very first.
We've got several three- to four-year-old Hansen bush cherries around the place, both in the orchard and in our house garden. And boy-oh-boy did they ever flower this year! Take a look at the picture of the one in our house yard. It's huge and has flowers on every single branch. Now if it just pollinates … It's quite a ways from the others and so far, no cherries. This spring we planted two along the same fence so it will soon have partners in pollination. But we sure hope some far-flying bees brought pollen to it. If so, we'll get gallons from that one bush as they form cherries all along the branches, top to bottom.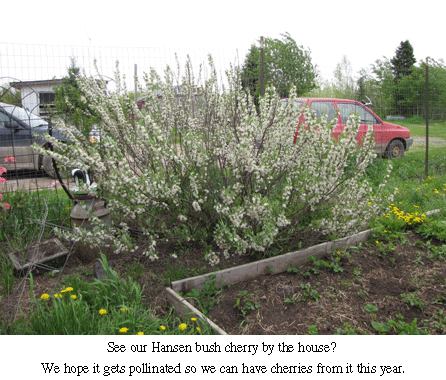 The wild blueberries are also quite good this year, as are the plums and pin cherries. We have high hopes!
Christian has graduated to milking the entire cow all by himself. As she still has a big udder, his hands do get tired toward the end, but milking makes strong hands!
Since I'm behind in the garden, I'm madly planting today, trying to get caught up. Unfortunately, in our short-season climate, you can't afford to get too behind. But maybe we'll have a warm summer, plenty of rain, and late fall frosts? A homesteader can only hope.
The knee is much better every day so I'm able to get more done, too. — Jackie