Just before going to Wisconsin to attend the MREA Fair and man the booth for the magazine, Will and I quickly planted our corn, beans, cucumbers, squash, pumpkins, and two rows of glads. While we were gone, we had ideal growing conditions, rain and heat. So it's small wonder that the day after we got home, the corn had not only germinated but grown four inches high and had two sets of leaves.
All the rest of the garden was equally astounding. Wow! I've never seen bigger squash and cucumber leaves! Yep, we were late planting this year and we had no "spring;" it went from winter to summer overnight it seemed. But because we planted late, the soil was warm and the seeds germinated with a bang. (Not like when you plant too early into cool soil and have seeds that take weeks to come up erratically. And some not at all, rotting in the ground.)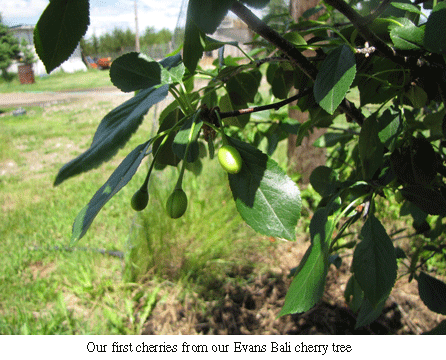 Our potatoes are shooting out of the ground, as are our glads. And the tomatoes are already several inches out of the Wall O' Waters. I guess I know what we'll be doing when I get back from the Self-Reliance Festival in Des Moines!
Then, this morning, one of our yearling does began kidding. Just minutes ago, she had a beautiful, nice big doeling. Will she have twins? I don't think so as she's not "fat," but they'll fool you sometimes. Shadow has a beautiful udder and we have high hopes for her as a milker. We bred her late since she was a small doe and we wanted her to get more size before breeding her.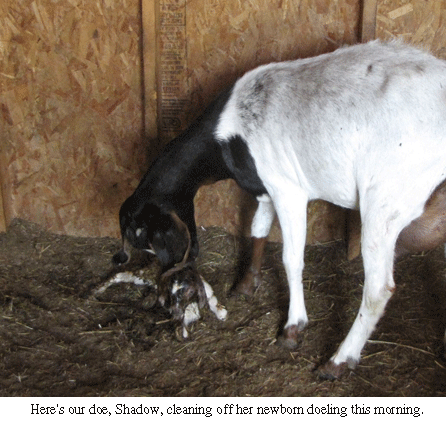 Just a reminder: Anyone who wants to spend an informational day learning more about self-reliance should come to Des Moines, Iowa, Friday-Sunday. I'll be speaking at the Midwest Self Reliance Festival, as will some other BHM favorites such as Jack Spirko and Dr. Bones and Nurse Amy. And I'm sure there'll be plenty of vendors selling helpful equipment and supplies. Be sure to stop by the Backwoods Home booth and say hi to me! The show is going to be held at the Val Air Ballroom. — Jackie