What do you do with 80 pounds of crabapples?
I'm making applesauce! My friend just gave us a feed sack full of crab apples that she and her husband picked. Since she has more than she wants, she shared with me. So I got out my Mehu Liisa and handy stock pot and started steaming apples. I sat on the couch and cut them in half, then filled the pot and Mehu Liisa fruit holder, and let 'em rip. I not only ran the softened apples through my Victorio tomato strainer making the nicest applesauce but siphoned off quarts of beautiful pink juice from the steam juicer. Adding a bit of sugar to the sauce, I canned and canned all afternoon. So far, I've taken 32 pints of sauce and a few quarts of juice out of the canner. And I still have apples to go! Wow! It doesn't take much to make a homesteader happy does it?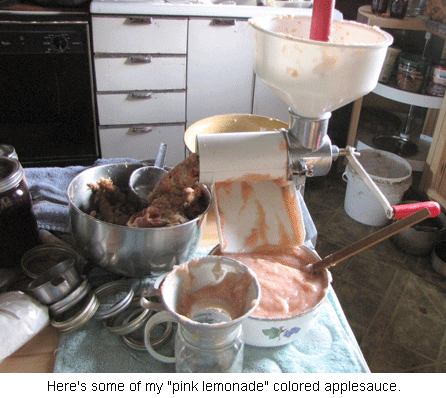 Meanwhile, Will's been plowing, discing, and picking up stumps, rocks, etc. from the area of our new forty he's working up. The ground is clay and quite acidic. He will be spreading both manure and lime on it and discing that in as well — hopefully before cold weather.
Our pumpkin patch did fair with minimal help from us. Not as well as we would have liked, but good enough to do it again better next spring. We're always looking ahead and planning how to do IT better. — Jackie