It takes quite a bit to WOW me after all these years. But I recently saw a mention of it in Farm Show and had to check it out. My-oh-my, what a beautiful and unusual popcorn it is! Although it is open pollinated and not a "new" corn, it has not been commercially available until very recently. I HAD to order some. But it's not cheap. Native Seeds/SEARCH has it for $7.89 for 50 seeds. With shipping it came to more than ten dollars. But I figured, "What the heck?" I was kind of disappointed when I got my pack and opened it, there were nearly all pastel blues and whites in the pack and often with colored corn, you mainly get what you plant, in coloration. So I ordered another pack. Only one red seed and one pink seed in the pack. Oh well, I'm going to plant it anyway and hope for more brilliant colors.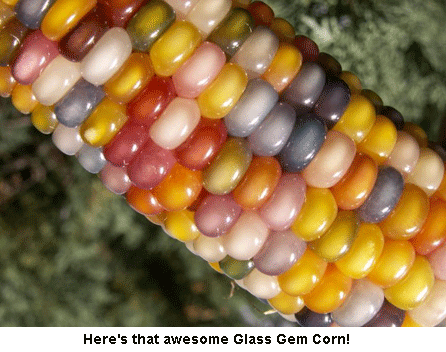 It's going up in our berry patch, which is better than 1,000 feet away from our garden corn and separated by woods and hills. So far, corn has not cross pollinated when we planted it this way. I'm real excited!
Will's got the new bathroom vanity hooked up. When you turn the faucet on, water comes out! I think it looks absolutely gorgeous with the cherry and birds' eye maple top drawers and lower skirt.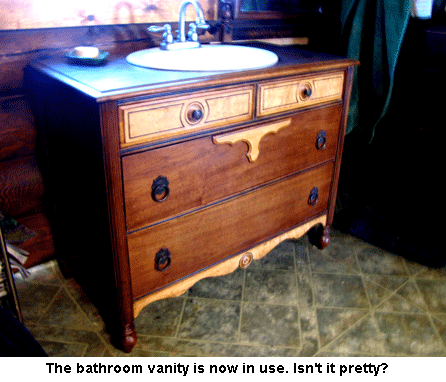 At the cost of propane right now, we've cut our use to the bare bones to make the 150 gallons we do have left over from fall last. Right now it's $4.50 a gallon around here! So we turned down our water heater, turned off the wall heater in my office (I put on a sweater when writing!), only cook on the wood kitchen range, and we're limiting our showers and baths a bit. We should get by until spring this way and hopefully, the price will come back to normal.
I am very worried for folks who are heating with propane and are living on a fixed or low income. I know that most of their energy assistance money has already been used up and they must be terribly worried. Please pray for them all; I am. It's another reason to become more self-reliant! — Jackie