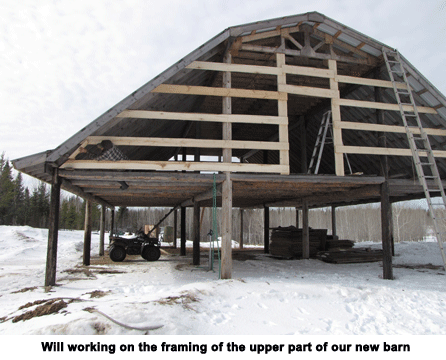 Because there's still too much snow to get to the sawmill and/or logs, Will's been busy using some of the lumber he cut last summer to frame up both upper ends of our new barn. Once the snow melts quite a bit more, we'll fire up the sawmill and start sawing barn siding to nail over it. We're going to use board and batten siding and stain it before putting it up. And to keep the wind out, Will's going to put sheets of our free 1/4-inch plywood under it to prevent drafts in case some of the battens warp a bit. At our age, we want this to be our last, best barn.
We wanted to attract more birds to our homestead and had talked about building some more bird houses for wrens and bluebirds (hard to get up here). Even if we don't end up with bluebirds, we do get swallows. All kinds eat a ton of insects, especially cabbage moths, so we love the birdies!
Luckily, Will had cut some big cedar logs into lumber last summer. They were out of a few cords we'd bought for fence posts and were just too large to use even for corner posts. So he cut them into one-inch lumber figuring we could always use some nice cedar lumber. Yesterday, he went down to the barn and came back up with several lengths of cedar.
I'd researched and drawn pictures with measurements on them, including hole sizes for the birds we want to attract. Will cut the lumber to size and brought the piles into the house for me to assemble. I screwed them together and drilled holes. Now we have six new bird houses ready to hang. And Will is going to cut more lumber so we can build some wood duck houses to hang next to our small beaver pond. I especially want those where we can watch with binoculars because it's so amazing to see those little baby wood ducks just jump out of their nest holes, way up high, falling to the ground with a bounce that would kill you or me, then get up, wag their tail, and head for Mama and the pond. What brave little guys!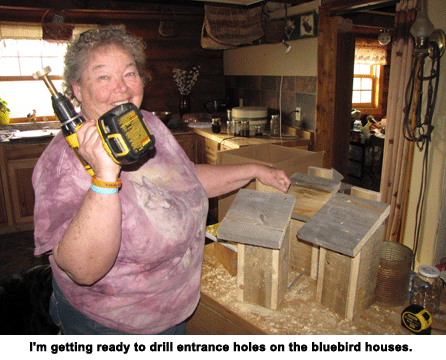 Today I'm clearing the deck to start transplanting tomato and pepper seedlings. They're growing so well we can hardly believe it! And I can actually see grass in our south-facing back yard! They're calling for 60 on Wednesday so we're really excited. The snow is going fast. Hooray! — Jackie