Will has been using all his spare time to push out encroaching brush in one of the neighbor's hayfields that we rent. Some of the previous folks who cut hay on the field slowly moved in toward the center of the fields as brush started growing on the edges. Over the years this significantly impacted the size and yield of the fields. So when we were asked to cut the hay, Will has also been trying to beat back the brush to regain the original size of the fields. Yesterday, after our homesteader potluck dinner and visit with a lot of great like-minded people, the sun was out so Will decided to go over and try to finish up the field he had been working on so he can bring Old Yeller, our bulldozer, home to do some work here.
He wasn't gone but about an hour. Oh oh… That's never good! When I asked him what broke, he shrugged and said a bearing in the drive wheel. So today he went over and hauled Old Yeller home and is, even as we speak, out there taking things apart so he can find how bad the damage is and hopefully order parts. Sigh. That's homesteading.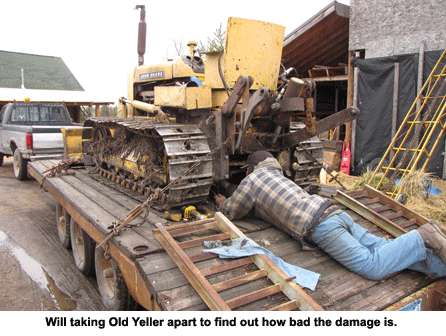 Meanwhile, I'm continuing to clean garden and flower beds. It seems endless some days.
We've got turkeys laying in their little turkey hooches. This year we separated the pairs so eggs don't get broken or too many turkey hens don't lay in one box. When the hens are in laying, the toms strut and dance around outside. Very pretty!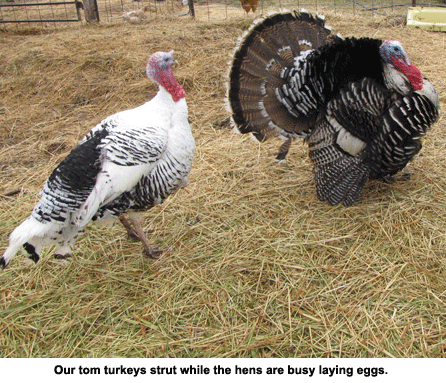 I heard FROGS yesterday! The sun was out, the birds were singing, and when I went out onto the deck, I heard frogs starting to croak down at the spring basin. Hooray! Spring IS here.
We had so much fun yesterday at our homesteader potluck — trading seeds, plants, ways we do different things, recipes, and much more. It was sort of like a mini-seminar. We'll do it again in the fall. (If you seem not to have any like-minded homestead neighbors, why not host and advertise a small homesteader potluck at your house this summer? It's a great way to meet new folks and make lasting friends.)
Just a note for those of you who enjoy stopping by the BHM booth at the MREA Fair: The magazine will not be having a booth there this year so Will and I won't be coming, either. I know some of you said you always stop by the booth every year to renew so I don't want you to be disappointed when we aren't there. Check out the other shows the magazine will be coming to on the magazine's website. Sorry to miss you at the MREA Fair. We enjoyed it too. — Jackie