With Old Yeller up and running, Will made ditches with the tractor and breaking plow then cleaned them up with the dozer. (I won't mention that he threw a track yesterday, and he waded in muck to get the track back on.) But before that, he cleaned out the old cow yard and goat pen up by the house, then carried all the manure out onto the orchard. That was the easy part! Today, after putting the track back on the dozer, he's started at spreading (by hand) all of that poo poo around the fruit trees. It's heavy work and he only does several trees at a time, moving on to another less-physical project to rest up his sore shoulder.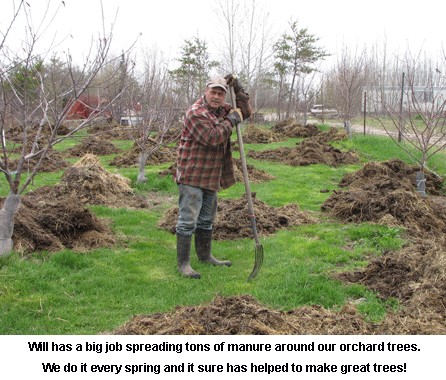 I planted 14 tomatoes in the garden and then Will and I set up and filled Wall-O-Waters around each one. He moved on to another project while I tilled the next rows with the Troy-Bilt. I'll get the next 14 tomatoes planted this afternoon, and then keep on until all we plan on planting have been set in. We're planting two of each variety we're planning on saving seed from, but more of some varieties that are very special.
Our muddy pumpkin patch and hog-pen corn "field" are drying out nicely and I can see us planting in a couple of weeks. I hope.
David's friend Ian came today as I told him I'd hire him to clean out the goat barn. (I've been having trouble with my left shoulder which turned out to be a bone spur and torn muscle. So I really need to schedule a minor surgery to have that taken care of. But we're so busy…)
Will and I went to a presentation at a local greenhouse on raising berries given by a fellow who has a U-pick berry patch. It was interesting to hear how he did things on a larger scale than we have and we picked up a few tips, too, as we always do, listening to others with experience. We also came home with a Pembina plum which we've been looking for quite a while after tasting one at Jeff and Sue's homestead near Hibbing.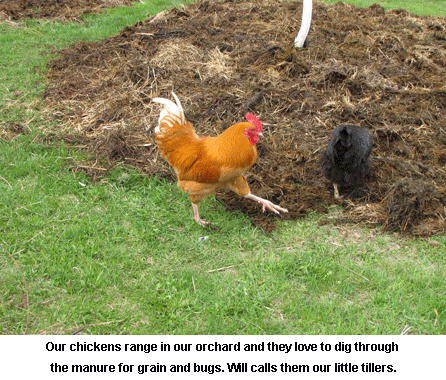 Well, I've got to go set out tomatoes! See you next week. — Jackie