After several nice, sunny days with temps in the high fifties and even sixty yesterday, we woke up to rain. Yuck. But we had a nice week, last week. We even got to visit two different friends. The first visit was to Mike and Dara's homestead. They are as dedicated homesteaders as we are, also having several large gardens. We took "the tour" and saw all they had been doing this fall, then sipped coffee and cocoa and talked seeds and crops. Dara gave me some of her Painted Mountain corn which she'd hung in ropes to dry as a room divider. It's gorgeous! We both love Painted Mountain as it not only is beautiful and makes tasty cornmeal, but actually dries down in northern Minnesota. Their carrots didn't do so well this year but their rutabagas sure did. So we traded two buckets of our carrots for some rutabagas, which I didn't plant this year. Dara also gave us a Marina Di Chioggia squash and a beautiful squash that was a cross between Marina Di Chioggia and Hopi Pale Grey. It's unusual because it's orange, smooth skinned with ribs lined in green, and the Marina "turban" on the blossom end. If it tastes good, we're going to save seed and see if we can breed a stabilized version of it that will reproduce true. How fun!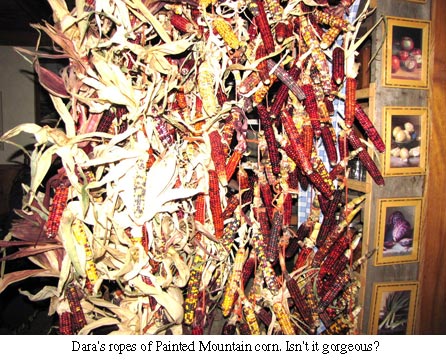 Saturday, we were invited to another friend's family farm near Cook, Minnesota (Jan) to help her and her sister (Bette) start to develop a plan to rehabilitate the farm which had been mainly empty for several years. We discovered a row of asparagus in the overgrown garden, found rhubarb and wild plums in several spots, and figured out how we could help the historical place. Jan and Bette fed us a wonderful meal, which we didn't expect, and we got to look at old family farm photos and tour the solid buildings finding history in each one. Jan had found some of her grandfather's ears of corn in a box which she thought were sweet corn he'd grown at the farm. She gave us a dozen kernels which we brought home to see if I could germinate. It'd be great if the corn was still viable and we could develop a population of that old corn!
Yesterday morning, one of our doe goats had triplets. Unfortunately, she totally ignores them and won't let them nurse. Eeek! I'm leaving on Wednesday to go with my oldest son, Bill, and his family, in their motorhome, to pick up my adopted son, Javid, in Montana. I sure hate to leave Will with three bottle babies, but that's the way it looks. I bought a fifty-pound sack of doe milk replacer this morning. (I WON'T tell you what I paid!) But kid goats don't do well on calf milk replacer and Homestead Mills didn't have any lamb milk replacer.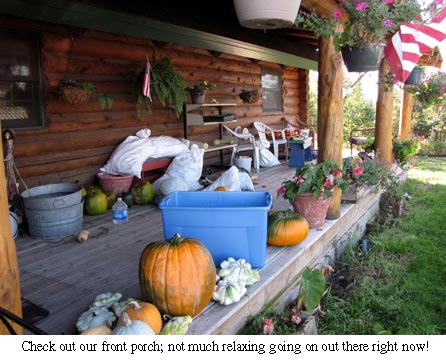 Our front porch looks like, well, what it is: a seed saving area. It's full of squash, pumpkins, baskets of tomatoes, etc. On nice days I work out there as it's a messy job and I'd rather squirt tomato "guts" on the porch floor instead of our kitchen floor! The rain washes it away. Will was working there yesterday while I cut up Hopi Pale Grey squash for their seeds. He was husking our Painted Mountain corn so we could bring it inside to finish drying. We were happy with the harvest from our new cornfield/pumpkin patch. With all its problems (infertile soil, 17 inches of rain at one time, white clay, etc.), it still produced and the deer didn't eat it.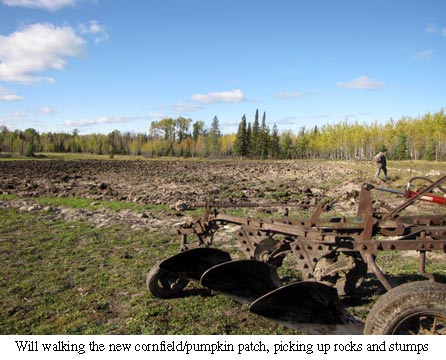 Now Will's hauling tons of composted cow and horse manure out to that two-acre patch, which he plowed. So far he figures he's put around 200 tons on it. Wow, now that's "Mo' poo poo!" But we know it'll really produce next year. Over winter we'll be buying a roll of 6′ 2″x4″ welded wire, which comes in 50′ rolls, so when spring comes, we can fence it (at least mostly), to keep the deer out. This year they ate all our pumpkins and squash. Oh well, we did get to keep our corn! — Jackie