But we're not complaining. We know you folks back East are suffering record-breaking snowfalls with nowhere to put it all. Been there. We know where you're coming from. Luckily, our winter has been great, although light on the snow. We only have about a foot on the ground. Honest. And it's not been too cold, either. So when we hit a week of sub-zero weather, it feels cold now. But we know spring is coming fast. In fact, in two weeks I'll be starting my petunias and peppers. Yeah, green things!
We keep opening pumpkins and squash as we use them, saving all the good seeds to sell in our Seed Treasures seed business, which is doing well. I'm glad to report that we've sent seeds to every state in the union now, from Florida to Alaska. (By the way, any of you who bought seeds, I'd LOVE to see pictures of your garden this summer/fall!)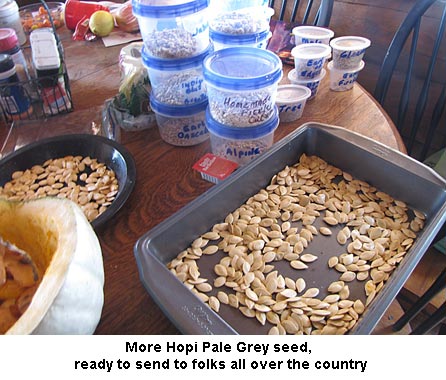 Just a note to let you know Spencer is 100% back to normal again and sure loves getting his pills 3 times a day. Why? Because I bought small cans of turkey cat food. I put a pill in the center of a tablespoon of food and he gobbles everything right up. Yum! We will be back at the vet's to get him started on other antibiotics to treat his Lyme disease as well as getting Hondo tested and vaccinated if he comes up clear.
Our critters are all doing fine. The goats are doing well back up the hill in the old goat barn for the winter, having free choice hay outside the stock panels and grain being fed in a heavy duty plastic sled I bought on sale a week ago. The sleds work great to feed grain as they are SO easy to clean out before new feed is dumped in. In the summer, I can even scrub them out, if needed.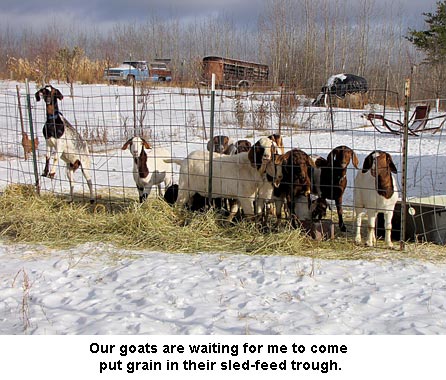 I'm happy to report that my Western novel, Summer of the Eagles, is selling well and has several 5 star reviews on Amazon. Would any of you who purchased the book, either on Kindle or as a paperback, give a review, also? I'm told that it really helps not only sell the book but place it higher in Amazon's promotion list, which is important. Thanks! — Jackie