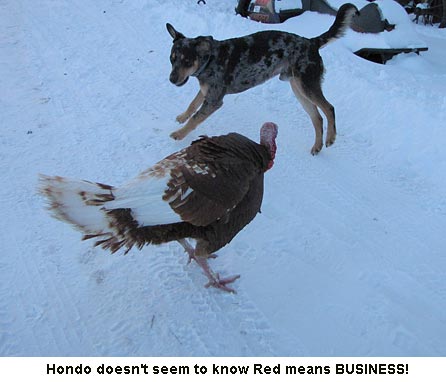 Well here are a few. Honestly, those two go at it for fifteen minutes at a time. Red, our Bourbon Red tom seems to be in earnest about the whole deal while Hondo thinks it's great fun. He doesn't seem to notice Red's scowling face and determined look at all.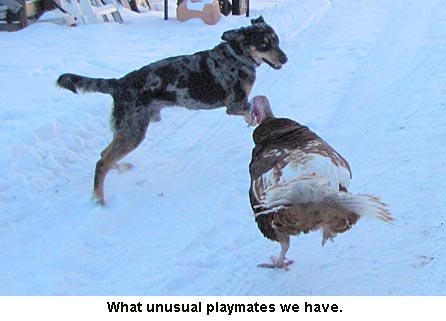 Our weather finally turned nice. Today it's FIFTY degrees with the sun out brightly. Boy, is the snow melting! I've been having periods of shortness of breath and chest pains so I went to the doctor today to get that checked out. I spent five hours at the clinic being tested and they are making an appointment for a stress test for me in the near future. So far, nothing has showed up. I hope it's just Cabin Fever! When I got back from town I sure noticed the snow pack on the driveway getting thawed. I sent up a rooster tail behind the Subaru all the way in. But I never felt like I was getting stuck so I just kept coming the whole mile and a third to the house.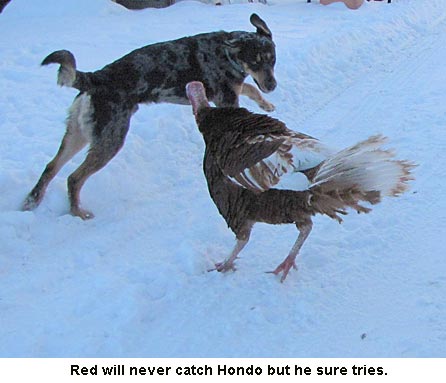 Will's been under the weather this last week, feeling tired and achy. He, too, went to the doctor last week. The Dr. put him on antibiotics with the idea that he (besides me and Spencer!) had a run-in with a deer tick last summer and picked up Lyme disease. He's four days into the antibiotics and does feel better. When I came home from town he was outside, in a T-shirt, working on a tractor!
I've got all my peppers and petunias planted and in their little plastic greenhouse next to the woodstove in the living room. Wow, that was a lot of peppers, but this year we have a 32-foot hoop house to put them in.
I'm so happy about all the great reviews of my book, Summer of the Eagles, both on Amazon and this blog! It's nice to know that both Western fans and folks who aren't all love the book. That's exciting to me. Thank you all! — Jackie