But yesterday, while I was cleaning on the back porch, I turned and saw bloody paw prints in the doorway…and across the dining room…and right up to Spencer! Real bloody! I picked up his hind paw and saw a big gash in between his toes. I took him immediately outside to stand in the snow as cold reduces bleeding. Then after calling Will over to watch him, I hurried inside to gather up first aid supplies. Drying his paw with an old washcloth, I packed his foot with soft sterile gauze pads, added another square and taped his paw and leg. All afternoon, we "made" Spencer lie down on his rug and not lick his bandaged foot.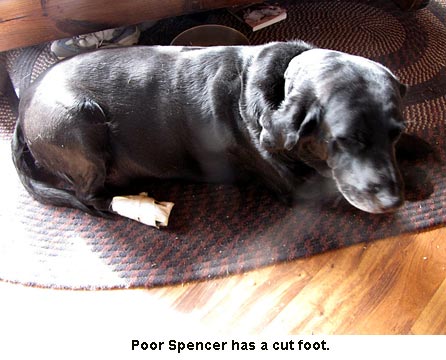 The bleeding stopped and he was VERY good about the whole thing. This morning, I removed the nasty, bloody pack and took the tape off. It looked much better. I let him lick it a little, then re-bandaged it so when he goes outside to potty he doesn't snag the wound on ice or something to re-open it. I'll change the bandage again tomorrow and see if the cut is healed enough to keep the bandage off. Poor Spencer! We never did find out how he cut it.
This morning, I peeked at my petunias and guess what? They're coming up nicely! Wow, after only five days, too. I set them on the table by my chair, in the window so they would get plenty of sun but wouldn't cook. Some were still not up and as petunia seedlings are SO little and planted on the soil's surface, I didn't want them to dry out, either so they are still in their bags. The peppers will be next.
Hooray!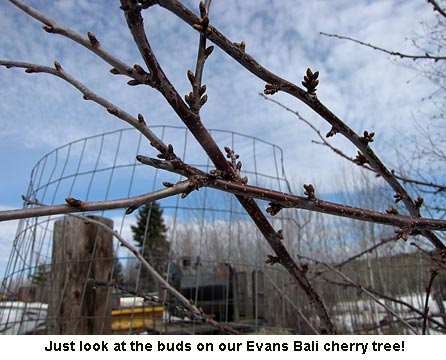 As our temps have been very mild, a whole lot of our snow has gone. I walked in the garden and orchards today and was real happy to report that there had been NO vole damage on anything I could see, even unprotected trees and shrubs like our wild pin cherries and some "wild" Nanking cherries. That was very exciting as I hate voles.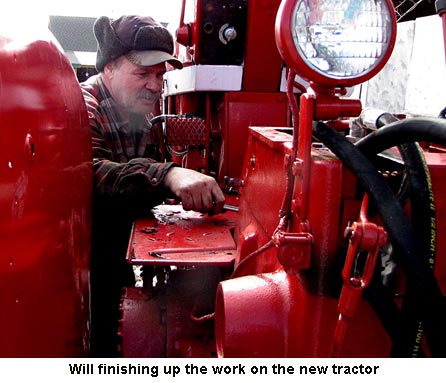 Will and I are both feeling better. He's been working on our new tractor. It came with only one rear hydraulic outlet and he needs two to run our big round baler…which is why he bought the tractor in the first place. Instead of spending more than $300 on new parts, he remanufactured it himself (with quite a bit of trouble, I might add) and today it is working. He did have to raise the seat a bit as the seat had a rod that was resting on one of the new fittings. But that's homesteading — you always have to think outside the box to get by! — Jackie