First of all, I'm sure you're wondering how I came out with my stress test. I passed. It seems like I got a case of walking pneumonia out of my last nasty cough-cold and that was what was causing my chest pains and shortness of breath. (The doctor looked at the first X-ray but didn't see the light consolidation that was already fading, but the radiologist spotted it.) Anyway, I'm feeling better and so is Will. Come on, spring!
Every time Will has a hamburger, Spencer, Hondo, and Mittens crowd around for bits of the bun (and maybe a little meat). So I just had to post a picture of them. I think it's so cute!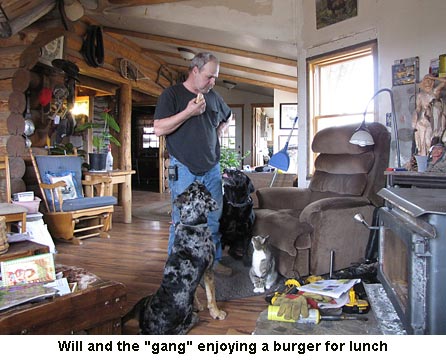 Today has been busy. I'm starting our first tomatoes, canning hamburger, and had to run to town this morning. But while I was in town, I saw a robin, our very first. I even backed up to make sure! Luckily, there was no traffic in town. Yesterday I saw three geese at home and Will also saw a pair of swans.

Will also split up a truckload of firewood from some logs that didn't make the cut for lumber. Now all we have to do is to stack it inside the storage building. — Jackie