Well, we're back from another whirlwind trip to Montana and back! Whew! We drove straight out there in 22 hours (obeying the speed limit). Got a motel and a good night's sleep. In the morning, we went 20 miles to get Javid's handicap van. It sat all winter and we were wondering if it had four flat tires and if it would start. Luckily, it had four round tires and with the help of David's battery jumper pack, it started right up, even with old gas in the tank. It drove right up the ramp and in 15 minutes, David had it strapped down and ready to haul.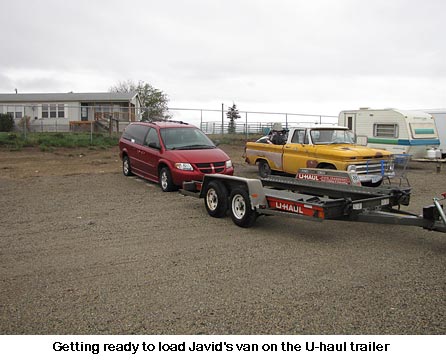 David's girlfriend, Hannah, had never been out west and had never seen a mountain and he wanted to show her Yellowstone Park. Since we were "only" 150 miles away, we set out immediately as the van had loaded so easily. We unhitched the trailer with the van on it to pick up later.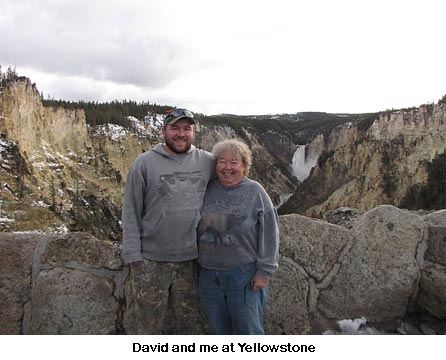 We had been to the park many times and knew the routes we wanted her to see. Boy, in all our trips through the park, I'd never seen so many animals of all different kinds. We saw bighorn sheep close up, elk, buffalo, coyote, and a wolf. And we saw two different grizzly bears! One was far off and with the telephoto, we could just make it out good enough to take some so-so photos. But the second bear was only about 120 yards away, digging roots. We were so excited! Both David and I got some decent photos. Then my batteries died! And I'd left my spares in my duffle in the motel.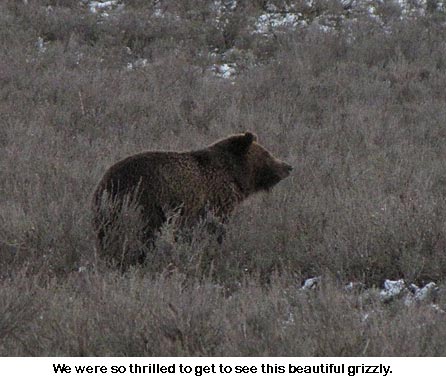 Hannah was thrilled to not only go right up in the mountains but to see snow in late May (one road was still closed due to snow) and all those animals.
We headed back to the motel at dark and got in kind of late. In the morning, we hooked up the trailer and headed east. And drove. And drove. And drove. We spent the night in Dickenson, North Dakota, and drove on the next morning. We left Javid's van off at son, Bill's (he'll check it over for mechanical issues) then headed north. After leaving off the trailer at the U-haul dealer, we headed home. It was snowing hard! Then David came around a corner and there, right across the road, were two big trees! Luckily, David is always prepared. He carries his chainsaw and lots of tools at all times. He hopped out and started sawing the trees up. We hauled off branches and in a few minutes we were on the road again.
Boy, our bed felt good! This morning, I took the tour. Will had rain all the time we were gone but he and Krystal managed to get the plastic on the small hoop house and plant black raspberries as well as countless other chores. I'm glad to be home. — Jackie