Sure, all year I can up food. But in the summer, we really get down to business! Our first crop of hot peppers is in, along with a few sweet peppers, too. Yesterday I picked just the largest of Will's favorites, Hungarian Hot Bananas and boy are there ever a LOT of them out there in the hoop house! I put up 10 pints, about half in half-pints, the rest in pints. And in a week, I can do three times that much.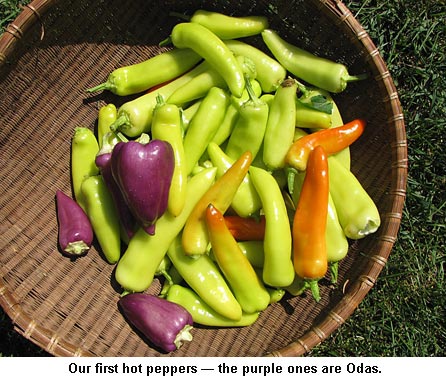 We tried a new pepper this year, Oda. And boy do I like it. It's a beautiful lavender purple that just glows. It's a sweet pepper but I mixed in the few that were ripe with the hot peppers to add pretty colors to the pepper rings. They'll absorb some heat from the hot peppers but they're mostly just for color. We'll definitely grow more next year as they're VERY productive!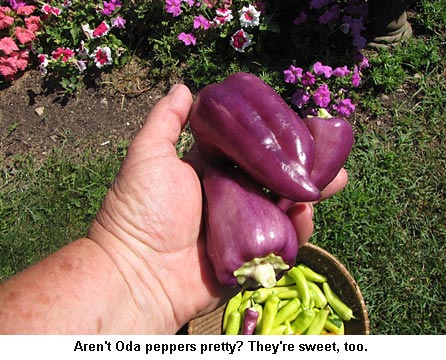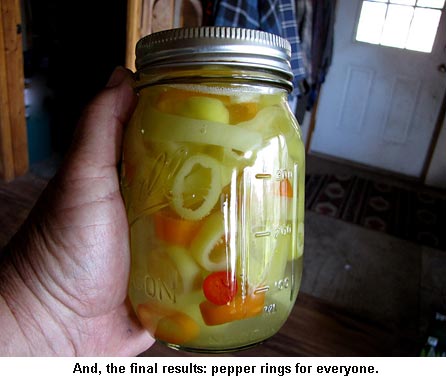 Our wonderful apprentice, Krystal, really hurt her finger badly when haying with Will last Wednesday. They were adjusting the bale chute on the square baler when the end of the tipped-up chute fell down. We all don't know exactly what happened, but she got the end of her finger in the opening of the hinge and tore it up pretty badly — bone broken and hanging. We were pretty shaken up, I'll tell you! We sped to the local hospital, then down to Duluth to St. Luke's and the orthopedic surgeon. Good news is that with some repair and a pin, she'll be as good as new when she heals. Thank you God!
She's a real trooper and today she is out raking hay while Will bales. I told her that if she gets tired or hurts, to let me know and I'll finish raking the field.
We've got lots of tomatoes set on the vines now and are just waiting to taste the first ripe ones. The corn is getting silks now and looks so good … as does the whole garden, actually. We're really happy with it. Can't wait to start canning in earnest! — Jackie