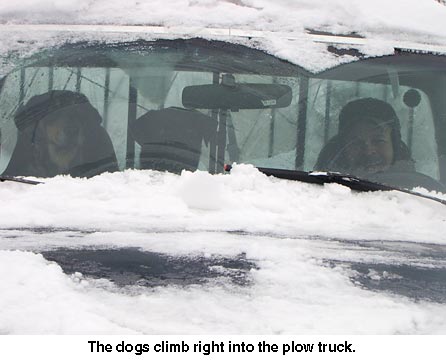 The dogs love it. They get to ride in the snowplow truck with Will. They can't wait. Spencer got disgusted because Bill's dog, Buddy, who we are dogsitting, got to ride, taking up all of his seat. So he turned around and came back into the house and got up in Will's chair. Humph! You could just see him grouch. (I'm sure we'll have more snow so he WILL get his turn in the truck.) Luckily, we haven't had bad snow storms (yet) like you guys on the East Coast. I hope you're all warm, prepared and safe.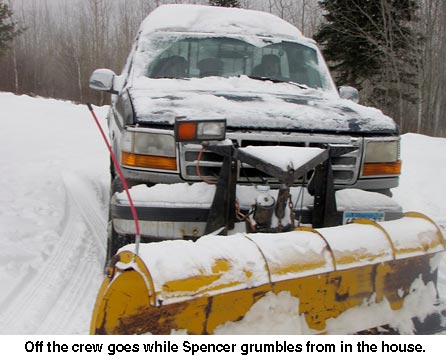 I'm starting to sort out my seed-starting trays and peat pellets as well as bags of Pro-Mix seed-starting medium. It won't be long before I start petunias. (Sure, I'm getting the itch!) We've received several varieties of folks' heirloom seeds in the mail and sure do get excited about trying all of them. (We're especially interested in Native American heirlooms so if any of you have one or two, we'd really like to try them. Just click on the Seed Treasures website and you'll find our address. Thanks in advance!)
We've been enjoying feeding the birds this winter as always, although we've only seen woodpeckers, chickadees, and nuthatches so far. We do all we can to encourage birds and insect pollinators by planting for them. We can't raise bees because Will is allergic to bee stings so we try to get all the wild pollinators we can by planting clovers in the nearby pastures, nectar-producing flowers in the flower beds, and even some flowers that bees love in the garden. For the birds, we feed year-around, keep water available in the yard in a birdbath and our little fish pond, provide birdhouses and nesting material, and plant seed-producing flowers they love such as purple coneflowers, sunflowers, poppies, etc. We also keep oriole and hummingbird feeders going all season.
Besides helping to pollinate flowers, even the orioles and hummingbirds eat some insects; we've seen them.
We don't have many nesting bluebirds yet but we do have some swallows and it's sure cool to watch them swoop down through the garden and snatch cabbage moths right out of the air!
Our bird-and-insect friendly homestead is another demonstration of the full circle way we try to live. We feed and plant for the birds and pollinators (and beneficial insects such as ladybugs), provide good habitat for them year around. They make our lives more cheerful while eating weed seeds, "bad" bugs, and pollinating our crops. We grow stronger and more crops with their help, then we feed them in the winter. This makes a complete circle which we strive for in all things. — Jackie