And boy, oh boy, does it feel good in the sunshine! I was outside yesterday in my T-shirt gathering eggs and playing with the goats. Nice sunshine, too!
Will is busy converting one of our two old pull-type corn planters to work on the three-point of our tractor. (In the north garden there isn't room enough to keep turning tractor and corn planter around on the ends.) So he's taking advantage of the warm weather by doing that and getting ready to install the rebuilt fuel pump for our Oliver tractor, which could come today.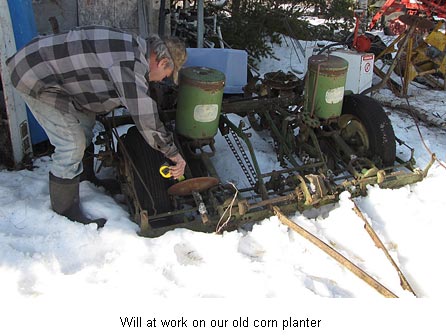 I took the four-wheeler for a ride yesterday, down the mile long driveway and by driving very slowly, I could check out the tracks to see who had been there and what they were doing. I saw the big tracks of a male wolf who was sauntering along, marking his territory and advertising his availability to females as it's their breeding season. There were also grouse, rabbit, and deer tracks. It felt so good to get out and be warm.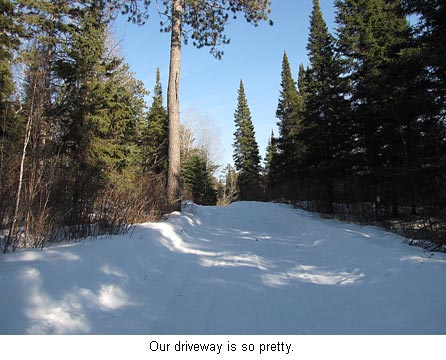 It's looking like I'll be headed for surgery to remove a section of my colon. If I have to have it done, I want to get it over soon so I'll be healed up for spring. Not looking forward to it but if it'll stop the diverticulitis attacks, it'll be worth it.
I was real excited yesterday when I checked on my first flat of peppers. They were coming up nice and strong. The second flat is starting to pop too and will be moved in the little plastic greenhouse in the south-facing window soon. I can't wait to get to planting tomatoes! Another week or so, now.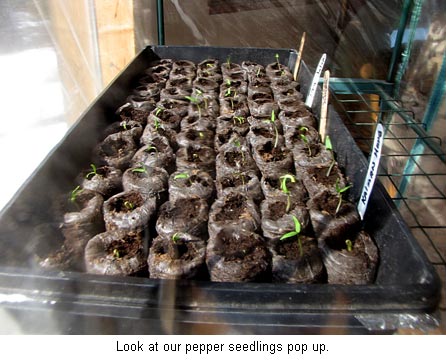 By the way, any of you who have read the Jess Hazzard Westerns and haven't posted a review on Amazon, this is a reminder that those reviews greatly help the sale of the books and that, in turn, helps us. Thanks, in advance! (And if you haven't read them, check out the reviews on Amazon; you're missing a good read! Even if you don't normally read Westerns.) — Jackie