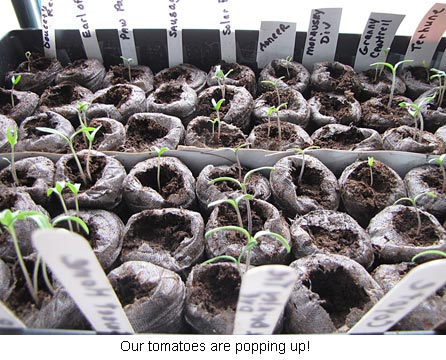 It seems that this year, spring is dragging its feet. Or maybe we just got spoiled when it was 60 degrees a week or so ago? Each day brings another "fit and start." One day four inches of snow and cold wind; another sun and melting; then more snow and 5 degrees! Through it all, our indoor seedlings are taking off. I've got a flat of peppers ready to transplant and the tomatoes are popping up.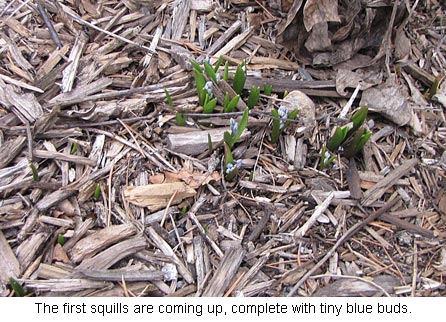 Outside, there are some signs of oncoming spring though. Our squills in the front flower bed are popping up, with tiny blue buds. The patch of chives in the flower bed is already up (as are the first tiny lamb's quarters!). And I'm seeing more and more migratory birds. Every day I'm seeing small flocks of robins and I've seen several kestrels (sparrow hawks) on the power lines.
I've ordered some daylilies and a few fruit trees, even a dwarf peach from Starks, which I'll plant in a big tub to be brought in our unheated yet enclosed back porch for winter. As it's a Reliance (Zone 4) it should do okay. Sometimes I'm dying for a fresh REAL peach!
I just discovered a wonderful website www.rafterbardmorgans.com that my sister, Sue, found. They have a grandaughter of our old Morgan stallion, Bragg, who was the inspiration for the Hawk in my western novels. Take a look if you love horses! — Jackie