The weather radio said our temps were headed for a warm-up. All I can say is it's about time! We're tired of snow, wind, and cold. But at least our little seedlings are doing well inside. I even planted a few more, just because.
Will mounted one of the tires he'd repaired on our old Oliver. Aired up, it's doing well. Only time will tell if it'll work. But if it does, that'll be a huge savings. If not, we're not out much. And yes, we will always be careful airing up that tire as it could blow at any time.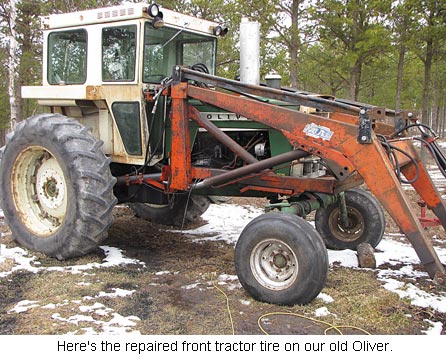 Saturday, our new HUGE tractor was delivered. The mile-long driveway was so rough with ice, mud holes and bumps that Will had the man unload it at the end of the driveway so he wouldn't have to navigate the drive with the tractor on his trailer. We were lucky — the day after Will bought the tractor, we listed the "old" IH 706 on Craigslist, got a call about an hour later and had it sold the next day. I HATE debt and having a loan on two tractors made me crazy! Will wanted the big 100 hp tractor as he was afraid he'd blow up our IH 706 plowing clay with our three bottom plow; it really had to work. Now we can safely plow and plant many acres of "borrowed" hay ground and harvest great alfalfa and clover hay, and some grain as well. I can live with that!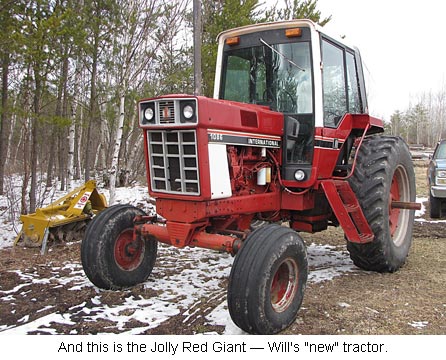 Our turkeys are starting to lay and we have a banty hen who has decided to become a mom. So tonight, I'll put her and a couple chicken eggs in a cat carrier lined with hay, shut her in and see how things look in the morning. If she's setting tight, I'll replace the chicken eggs with the turkey eggs and let her sit on them. Hopefully, she'll go ahead and hatch little turkeys. (If you just let a hen sit on eggs in the nest boxes, other chickens lay more eggs in that box and they get all mixed up and usually broken. We don't try that anymore!
Hopefully by Wednesday the sun will smile on us again and we can get to work! — Jackie