Finally, our cold snap has broken. I'm running around outside in a T-shirt. Hooray! I have to laugh at our wild turkey hen. At first she was terribly shy, running off when I got within 200 yards of her. Now she sees me coming and flies to the top of the chicken coop, then lands in the orchard, waiting for fresh feed. I just looked and she was scratching about in the grass (yes, we now have GRASS) with the tame turkeys. I wonder if she'll lay eggs out in the woods or in the orchard?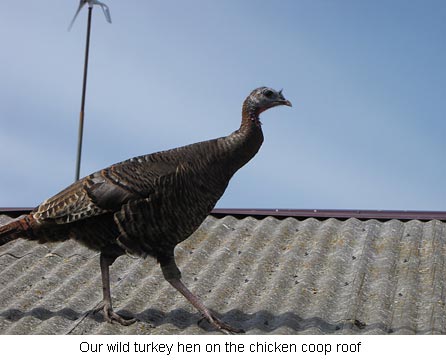 Of course, our tom turkeys are strutting full blast now, each trying to look bigger and more gorgeous than the others. They huff up so big they seem like they'll pop.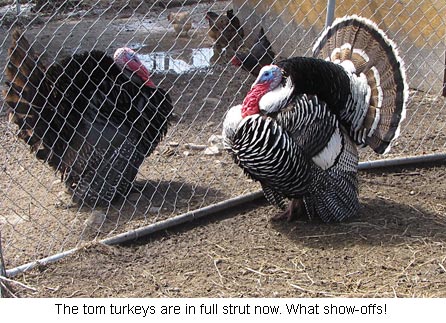 Will just got in from pruning our orchard and reported scarcely any winter kill on new twigs. The trees do look good and we are hoping to get a good crop of apples and other fruit this year. Last year, a late spring frost got all our fruit blossoms, including wild blueberries, raspberries, wild plums, and pin cherries. That sure was a bummer!
Little red rhubarb noses are poking up out of the soil — our first real sign of spring. I can't wait! This afternoon I'm transplanting peppers. I was going to do it days ago but the Pro Mix was frozen solid as I kept it on the front porch outside. Now it's finally thawed and warmed up — I didn't want to use icy cold potting mix!
I walked into the big hoop house and it felt like summer. I really, really, really wanted to dig in the dirt. — Jackie