We had an entire week of sunny, very warm weather and boy, were we busy. (We knew it would not last as it's too early!) While Will went with our neighbor to pick up some farm equipment he'd bought at an auction last week, I hopped on the tractor and graded the driveway. It went great for two passes. Then the tractor bogged down in a frost boil and stalled out. (For those of you who don't know what frost boils are, they are patches of soil, usually clay, which froze solid with frost and suddenly thaw out, becoming very soft. Often the ground for yards around is spongy. It's sort of like standing on a mattress and jumping up and down — it's all waves and wiggles.)
I tried several times to start the tractor but no dice. That Ford is funny that way, often needing a few hours to "cool" off after hard work before it'll start. Anyway, I turned off the key and started hiking back — nearly a mile, up and down hill at 75 degrees. Huff, puff.
When I figured it was getting time for Will to show up, I hopped on the four wheeler and ran it back, just in time to see Will pulling up with the Subaru. He jumped on the tractor and it started right up so he drove it out of the hole and I took it home while he ran the four wheeler home. Then we both came back to get the car. Long story short, the driveway graded nicely but that frost boil will need a week of dry weather to go away so we're not planning on running in and out much! AND today it's raining as it's supposed to off and on all week.
Yesterday was so nice, Will worked again on the Kawasaki Mule, getting it ready. The carburetor had gunk in it and needs a fuel filter, which I picked up today. It's getting close to being usable! I can't wait. How handy that'll be and what a cheap vehicle at $200.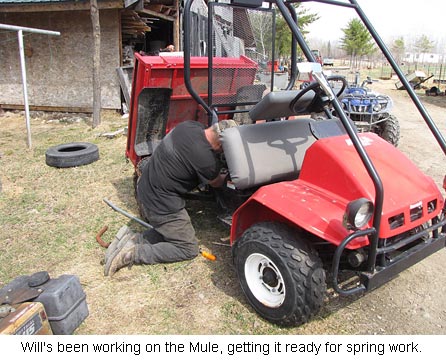 I got two flats of peppers transplanted and in just two days they look SO good! I'll be doing another flat soon as well as starting in our tomatoes. It's looking like spring in the greenhouse for sure. Today I'll be starting the Japanese morning glories I got from Baker Creek. They have huge blooms and I can't wait to see them. Here in northern Minnesota we have to start them inside to get blooms by late summer. It's a little more work but they're worth it!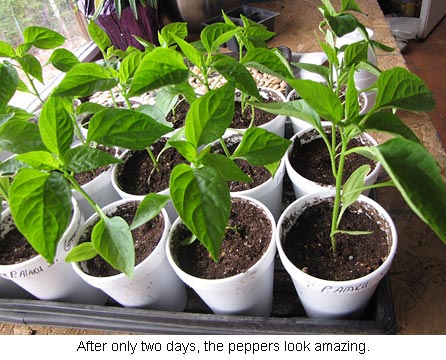 Lots of birds showing up around here. Today I saw a flock of a couple hundred robins in a field on the way home. And our pair of Canadian geese is on the beaver pond by the house. Every year they raise a bunch of cute babies and we feel like they're family.
The frogs have started singing. The wood frogs were first, sounding like ducks quacking, then the spring peepers started the next night, sounding like far-away sleigh bells. How exciting! — Jackie