Although it's not sunny and warm, the temps are still hovering in the low 50s although it has been rainy and cloudy off and on. It puts a damper on spring fever. Especially when one of our doe goats delivered twins outside in the cold rain. She had not shown any signs of kidding prior to that, either. One kid was born dead and the other, a buck, was chilled and weak, unable to nurse or even stand up. I rushed him into the house and put him in a box next to the wood stove. Then I tore back outside and got the mother on the milking stand and quickly milked a quart of colostrum from her.
The buckling wouldn't suck so I tube fed him about 2 oz. of warm milk. I repeated every two hours until he finally started sucking on the bottle. But last night he was very bad; I didn't even know if he was alive but I still tube fed him, finding he was breathing but very, very lethargic. I didn't expect him to last till morning.
He did. And this morning he not only took the bottle but actually sucked vigorously. Now he's acting like he just might live, after all. We hope.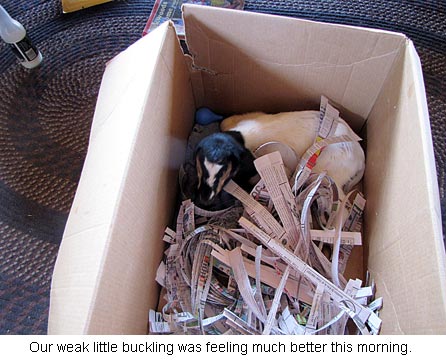 Will's been peeling the long, black ash poles he cut in our woods for the front porch railings. There are three sections needing railings so he cut plenty so we'd be sure to have enough. Luckily, being green, they peel very easily. Now he's finished and they are stacked with the other logs by the sawmill, drying. Hopefully, we can get the railings sanded, stained, and assembled soon.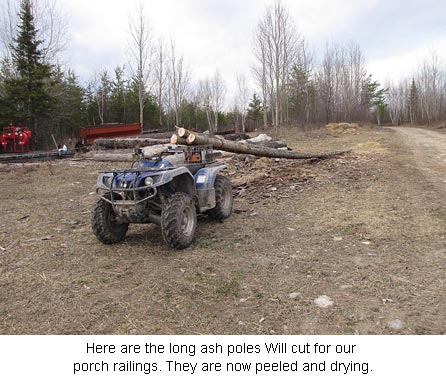 I got my morning glories planted this morning after soaking the seeds all night in cups of warm water. That helps them get germinating faster as the seeds have a thick shell. I can't wait to see them bloom. — Jackie