In Northern Minnesota, nothing much is easy. We had a couple dozen apple trees plus cherry and pear trees in our little acre of orchard. And they were doing great. But two winters ago, we had record-breaking winter temperatures: 90 days below zero. We lost about six apple trees and the rest took hits from mild to extreme. This spring we pruned them all, Will sawed out the dead trunks, and some were beyond help. So we ordered trees to replace them. The old saying "plant till you're planted" sure rang true! So we re-planted trees.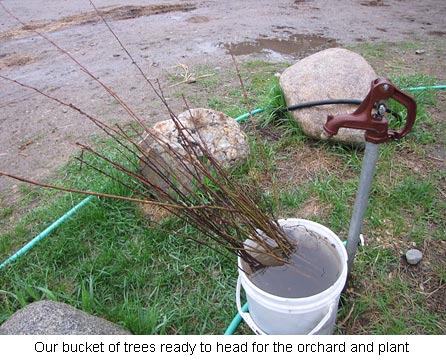 Luckily, all the survivors are looking very good as are the cherries, apricots, and plums in our other little orchard in the "back yard."
I've got to start canning up hamburger as we've got a lot that needs canning before hot weather. It's so very handy all canned up and ready to heat and eat! We love it. I just lightly brown and crumble the burger, spoon it in jars, leaving 1 inch of headroom, and process it — no liquid added. It turns out great every time.
By the way, our baby goat Sir is getting smarter; he follows me like a dog for his baba. And he's doing great. Who'd have thought? — Jackie