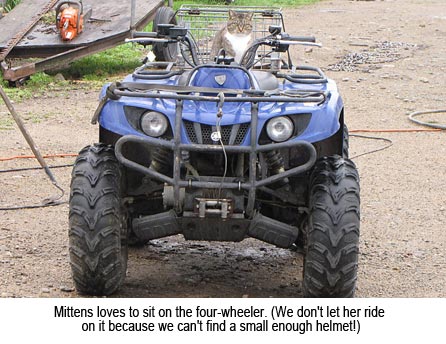 Seven inches Sunday and four last night! I'll swear I saw a bearded man at the lumberyard ordering cubits of lumber for an ark … Luckily, our gardens were well tilled before it hit and there aren't lakes on them to rot the seed.
We've still been planting a few odd things here and there. (No, they're not "odd," just kind of leftover stuff we didn't get around to getting in sooner.)
There's a mama killdeer with a nest out in the corn on our north garden so we don't bother her area. The rows need tilling with the weeds flourishing out there but it's too wet now and we don't want to disturb her while she's sitting on eggs. Speaking of eggs, one of our turkeys came off the nest with three babies and another hatched a CHICK — not a poult. One chick. She found a nest with one chicken egg and became attached to it. Now she has a baby to raise up and love. Strange but cool.
Our tomato plants look awesome! Very stocky and dark green. Unfortunately, we have billions of volunteer tomatoes all over the garden; our only weeds this year! Luckily, they're easy to till up and pull. It's time to stake and cage the tomatoes and start in weeding and mulching the main garden. As soon as the rain quits, that is.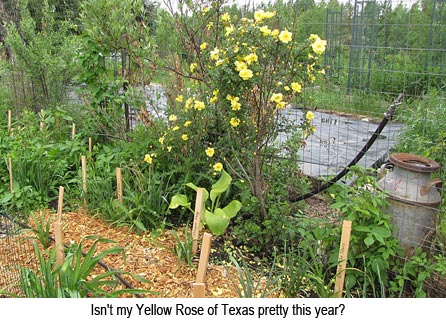 My flowers look great this year and my Yellow Rose of Texas is blooming its head off. I've been hitting one flower bed at a time trying to get rid of the weeds, especially perennial weeds like nettles and raspberries that keep popping up. And it's working. So far I've got four beds pretty well "domesticated" and another bed pretty good. Mulching after weeding helps a lot. I'm using wood chip mulch about six inches deep. The peonies, delphiniums, hostas, and daylilies look great and make me smile as I sit on the front porch. Ah, homesteading! — Jackie