Just what we needed — another rainstorm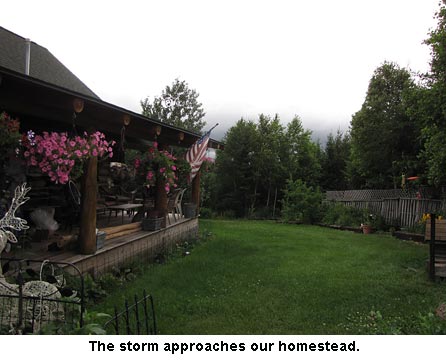 We were hoping for some warm weather so we can get started making hay. You need at least three dry days in a row to do this. So far, the most we've had is one sunny day. All the farmers in our area are getting really nervous. We watched the storm front coming in from the west — a big white roll of cloud in front of blackness. And we prayed we'd get no hail out of that storm. Well, we didn't get any hail, but boy, oh boy, did it ever pour rain. There was about an inch that fell in less than half an hour.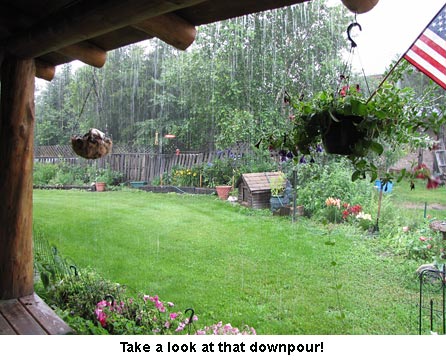 Luckily, the gardens are loving the rain and hot weather. Our first corn is shoulder-high and Will's Seneca Sunrise sweet corn is nearly that tall. The pole beans have climbed up over head high and are wandering around looking for something higher to latch onto.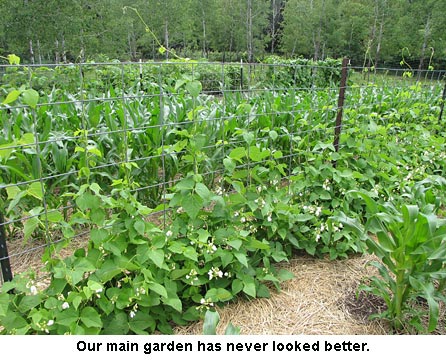 We've been trying to weed, although we still can't walk in the north garden for the muck. But the squash, pumpkins, corn, and beans look pretty darned good despite all the weeds. And the third planting of sweet corn in the pig pasture garden is up and looking good. Yep, the ground squirrels took to the trade and are eating the piles of corn I put out instead of digging up the sprouted sweet corn seed. Hooray! (Mittens got two more ground squirrels and Hondo got another.)
On a sad note, one of our heifers turned up missing the other day so we spent the whole afternoon and evening searching the woods on the north forty for her. No cow. She was bred and we were worried she'd hidden to have a calf. Early the next morning, Will took out again and finally found her… dead. She'd been down calving and gotten her head under a fallen log and her hind legs under another. Both heifer and calf were dead. It took us several days to get over that loss; she was one of Will's favorites. Homesteading is not all sundrops and roses. — Jackie