And because the weather radio had our rain chances at 20% yesterday and it was sunny, Will cut hay. He quit when it started raining two hours later. And by the time he'd gotten home and in the house it rained again. No, make that POURED! Luckily, today (so far) has been sunny and breezy so he's going out to rake the hay so it can dry the rest of this afternoon and tomorrow until he attempts to bale it. What a year it's been.
Fortunately, the garden and pastures have loved all this rain! I've never in my life seen such crops. I have some beans a foot long and Will's pride and joy, Seneca Sunrise sweet corn (which the cows ate last summer), has nine-inch cobs that are very fat. And LOTS of them. Our new sweet corn, Yukon Supreme, has shorter cobs, about five to six inches, but is very fat and tasty. We ate some last night to try it. It isn't super sweet but does have nice old-fashioned corn flavor. It appears the variety needs a bit of stabilizing as we got both bi-colored ears and yellow. But when a sweet corn produces five ears per seed (it stools out with about four tillers, each having nice cobs!) and matures at 50 days, we sure aren't complaining!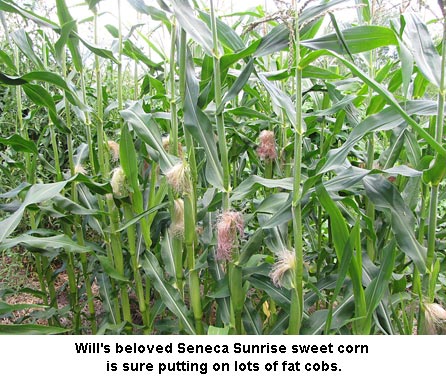 In our big hoop house, the peppers are going nuts. One variety that is super nice is Mt. Etna, an Italian sweet pepper. One plant has twelve big peppers with more coming. And the beans? I can't walk through the hoop house because of the beans EVERYWHERE on the south end — up poles, clinging to the hoops. Very nice.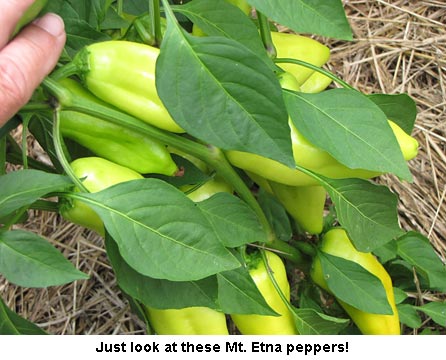 Will has been whacking tall grass so he can turn on the electric fence on the east pasture for the cows. He wanted them out of the north pasture so there was NO chance of them breaking into our north garden like they did last year. He'd even put electric fencing around the 6-foot-tall welded wire fence but didn't trust them. Besides, the pasture was getting a little eaten down. So first we drove them to the small north east pasture, which is fenced with barbed wire. But it's only about five acres and they ate the three-foot-tall grass down in a week's time.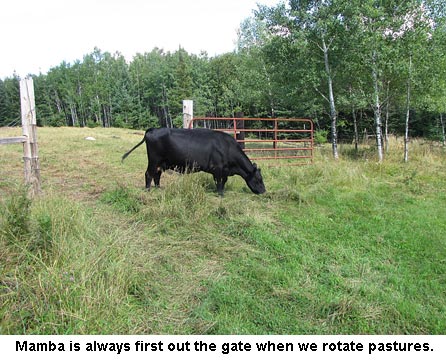 Today he got the fence working and I turned the cows out onto the east pasture. I didn't have to call them twice! Mamba, one of our milk cows, saw me open the gate and started trotting right toward me. She knows the routine and LOVES it when we rotate pastures. She's always the first out the gate. Smart cow. It used to be Lace, our "wedding cow", but early this spring, we lost her. She wasn't a young cow when we bought her five years ago and she had a real bad case of mastitis in all four quarters when she calved last fall. With the help of friends, we treated her for weeks and finally stopped the mastitis. But I'm sure it stressed her body. We were sure sad when she died and I think of her every time I go check cows. She was the best cow I've ever had. — Jackie
Pictures of our homemade backhoe for Reg
This is the backhoe we bought for $300 from our friend, Tom. The front is an Allis Chalmers tractor with a trailer hitch in place of the front tires. The seat is on backwards for the hoe operator. The hydraulics run off of the "tractor." Instead of two big rear tractor tires, there are four heavy-duty truck tires to lower the backhoe and support the weight while digging. The hoe has outriggers run by the hydraulics to help steady the rig while digging.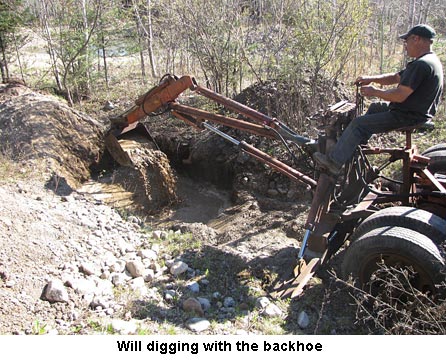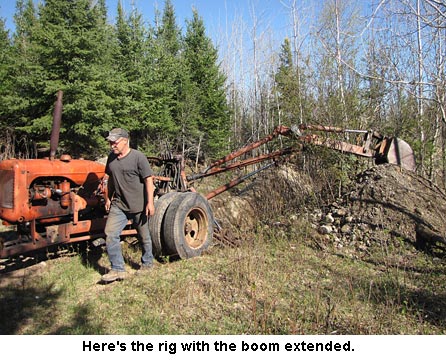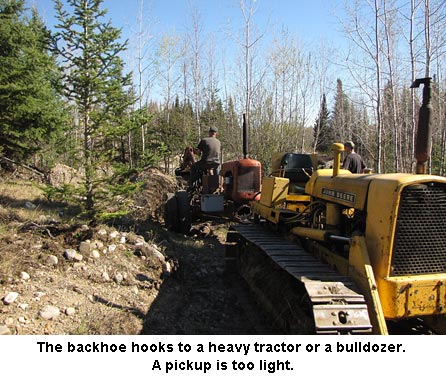 It ain't fancy, but hey, it works! I'm sure if you have any questions, Will would be happy to help. — Jackie