Will and I will be attending the Homesteading and Sustainable Lifestyles Expo in Orr this weekend
Will and I will be manning our Seed Treasures booth, showing some of the various crops we grow and answering questions as we pass out catalogs on august 20th and 21st. I'll also have some of my books available for those who wish to purchase autographed copies. I'll be speaking on gardening at 2 PM on Saturday and speaking about canning at 4 PM on Sunday. We're expecting a great show as there are many workshops as well as vendors. The Orr Center is housed in the old school in Orr Minnesota, about 40 miles straight north, up Hwy 53, from Virginia, Minnesota. Check out the Orr Center's website for more information at www.orrcenter.com. I hope to visit with you there!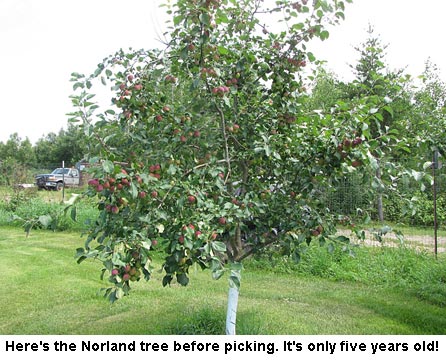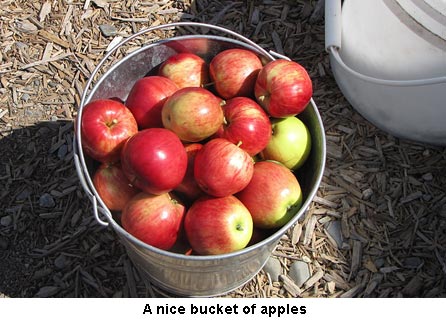 Yesterday I picked a bucket of Norland apples to can up. They were starting to fall off the tree they were so ripe. Norland is a very productive fall apple. It's tasty, early to produce and very hardy, but it doesn't keep. So after giving my friend a pail full, I picked one for us and canned 'em up. I did keep out enough for a pie, of course. I wasn't so sure how it'd work as it is a soft apple and might not make a nice pie. I was wrong! Although it was soft, it more than made up for it by being very tasty.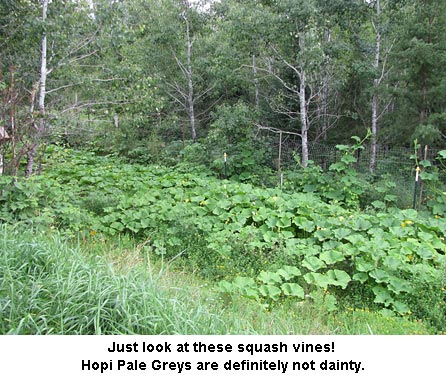 You should see our Hopi Pale Grey squash vines. They have entirely taken up the narrow bed they were planted in and are now climbing trees, the fence and the bank next to them. What vigorous vines! And I know they're loaded with squash, too, as usual. — Jackie