Boy, are things ever getting ripe. I'm hurrying to get the early tomatoes seeded to save their seeds. So far the early winners this year are: Earlibell, Italian Paste, Morovsky Div, Silvery Fir Tree, and Cougar Red — with Bill Bean crowding in too! Yeah, Don, they are that big; Dad wasn't stretching the truth. I can't get a tape measure into the cage where the biggest one is, but it's about two inches larger than the one I did measure and it's still green!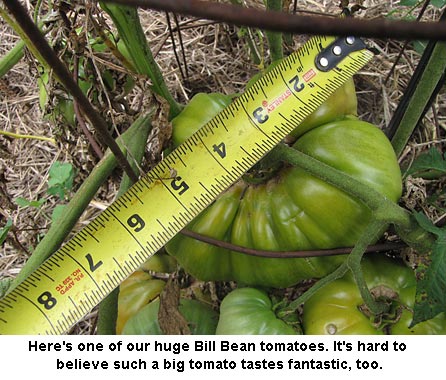 Our wild plums are ready to pick and look so pretty hanging in the trees like Christmas decorations. They just glow! I'm making a big batch of plum jam from them this year and saving the pits as so many folks wrote us for them so they could plant some too. (They have to be planted this fall so they can go through winter and come up next spring.)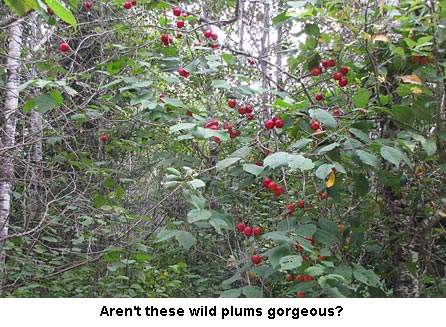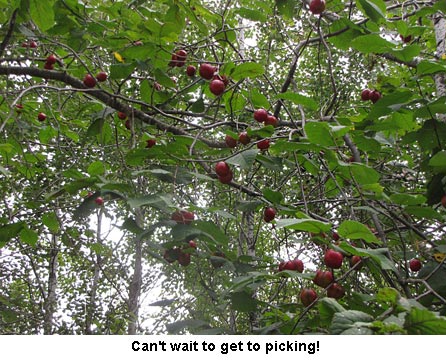 The corn is simply fantastic! Everything from the rare Burro Mountain popcorn to Will's Seneca Sunrise sweet corn is out-producing anything we've ever had. It must have been all that rain. Now it's starting to dry up some and we're really thankful for that. Will's got hay down and we're praying the clouds overhead don't drop you-know-what on it.
The apples are also going nuts! I'm canning like mad and making lots of pies. Our Frostbite is simply over-burdened with fruit and that's our favorite apple. No complaints there! And the Prairie Magic is loaded with big apples. We love our apples (but we are hoping the bears don't break down the six-foot fence to get to them). Watch 'em, Hondo!
If you're looking for a hardy, Zone 3 black raspberry, like we have been for years, try Mac Black from Indiana Berry & Plant Co. 2811 Michigan Road, Plymouth, IN 46563. We bought a dozen last year and they not only survived winter but thrived and are starting to produce great berries. — Jackie