All I've got to say is "Yuck!" We're madly trying to continue our harvest but it's nearly impossible when it's pouring rain every day. I've still got plenty of dry bean seed to harvest along with corn, squash, potatoes, and onions. I had friends stop by to help harvest dry beans the other day (the only day it didn't rain, by the way), and that was a huge help. I'm still shelling the beans but at least they're not out in the garden, drenched.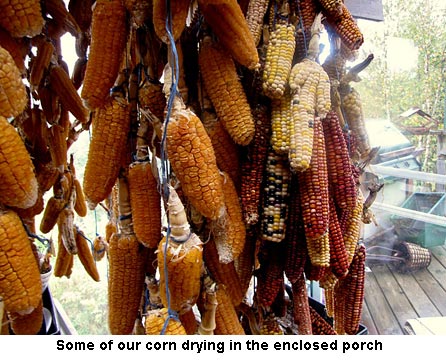 We've been picking corn every chance we get and I still have some Seneca Sunrise sweet corn out in the pig pasture I want to can — it's the third planting and is just getting ripe now. Hopefully Wednesday we can get it as the weather man is calling for drier weather. Meanwhile, I've been canning tomato sauce, spaghetti sauce, and pizza sauce every day as we continue seeding our tomatoes.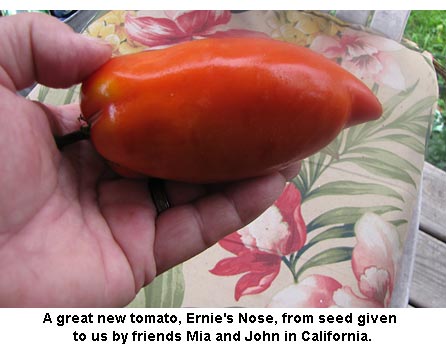 We run them through our Victorio tomato strainer which removes the skins and seeds. Then we soak them, mixed with half water/half seeds, in a cup or bowl for three days to ferment. The fermenting dissolves the gel and flesh along with killing any bacteria or fungus present. After this period, the yucky stuff is poured into a wire sieve and I run warm water over them, squashing out the fermented material. Will then dumps the seeds/skins into a deep bowl and lets warm water just trickle into the bowl, gently overflowing it. The skins float to the top and the seeds settle to the bottom with a little gold-panning technique, kind of swirling the water very gently. What's left over is pure seed. This is dumped out into the sieve again to drain, then the seeds are tunked out to dry onto a plastic plate with the variety name on it. We've developed a pretty efficient method.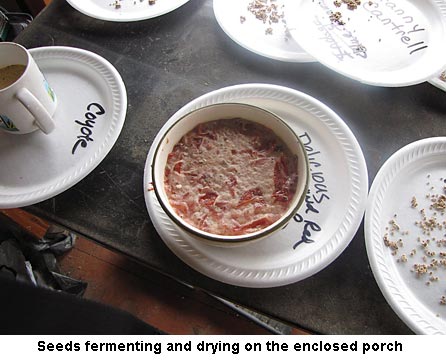 Meanwhile, on drizzly days, Will has been helping our neighbor haul gravel to fill a depression in his yard where he parks his work truck. Yesterday, Will was backing up the crawler-loader out of a dip with the bucket full of gravel. He got a bit distracted and, I'm sure, tired. The crawler-loader had the bucket too high with a load (big mistake!) and the back end suddenly lifted off the ground, bucket to the ground with the weight in it and Will catapulted out of the seat, striking the hood, then the bucket with his head! Luckily, he wasn't seriously hurt but he sure came home with some unusual scrapes and bruises. We're so thankful it was not worse. Whew! You can bet he'll be more careful in the future. (By the way, crawlers don't have seat belts.)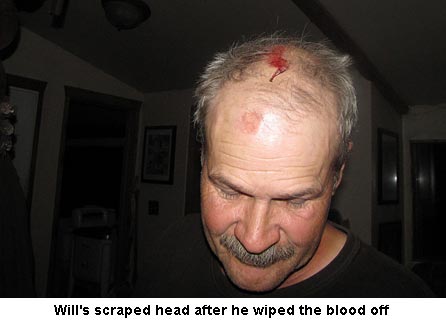 — Jackie